What is it like to come to the CONEXPO show for the first time? Well, it would be easy to be overwhelmed by the sheer size of the show and the distractions of Las Vegas. It is manageable by taking some time to put together a plan and to build a set of priorities for what you want to see.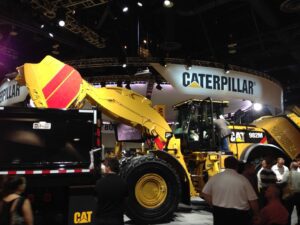 Even though the show is huge, it is organized into some categories. Major OEMs, such as Volvo, Cat, Deere, Hyundai, etc. are all located in one hall. Another is filled with engine and powertrain suppliers. CONEXPO is co-located with CONAGG – for aggregate equipment – crushers, conveyors, concrete and asphalt equipment. The IFPE is also part of the show and you will find all the players in the fluid power industry in that section of the show.
As you can imagine, there are a lot of exhibits to see, including several outdoor lots filled with large equipment such as cranes, "portable" concrete plants, and larger trucks. It definitely takes more than one or two days to see the entire show. And after show hours there are meetings and dinners, then all that Las Vegas has to offer.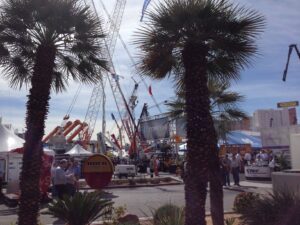 Here are a few tips that can help make the show not just survivable, but successful.
1. Make a Plan
Prepare ahead of the show and make a list of who and what are must-see for you. Map out where those are located and plan routes each day to avoid miles of excess walking
2. Leave Time for Discovery
After you see the things you plan to see, there is a lot of stuff at this show that is just cool. Be sure to include some time to just walk around and see what you can find, you never know what you will discover that you didn't even know was out there.
3. Stay More Than One Day
It is not possible to see the whole show in one day – you can only see a few specific things and maybe have a meeting or two. Besides, it's Vegas, baby!
4. Wear Comfortable Shoes
According to my Fitbit, I am walking 30,000 to 35,000 steps per day. Bring more than one pair of shoes and alternate days to help avoid blisters. Also, don't forget to wear sunscreen outside and to drink plenty of water.
5. Enjoy Vegas… Carefully
A halfway decent night's sleep and responsible libations will make walking and working the show a great experience. Then stay the night after your last day of the show if you want to tear up the town
CONEXPO/CONAGG claims to be the largest tradeshow in the U.S. and it is only held every three years. It is a great show, and I will see you there in '17.