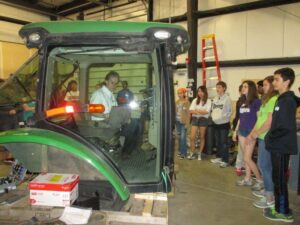 On Friday May 1, DISTek hosted about 50 junior high ALPHA (Talented & Gifted) students from Holmes and Peet Junior Highs in Cedar Falls. These students completed a 6-week unit in January and February on careers and were interested in engineering fields. The purpose of their visit to DISTek was to learn more about the various types of engineering. A short presentation was shared outlining a brief overview of DISTek and focusing on two primary roles within DISTek, software engineer and test engineer. Given DISTek primarily provides engineering services to our customers; our end product cannot normally be seen by others. DISTek works with our customer to make their products better either through embedded or automation and test software.
Students were blinded by the light during a demonstration of how software has become the main component within the process of turning lights of an agriculture vehicle on/off. This process involves multiple controllers communicating amongst themselves and utilizing embedded software to perform as desired.
Another demonstration discussed how test systems are created, balancing the size requirements with the required functionality. Students saw a cabinet in its in-process state.
After the demonstrations, a wrap up included how the students can prepare for careers in engineering now, namely focusing on math, science, and engineering (Project Lead the Way) courses, participating in FIRST programs (FIRST LEGO League, FIRST Tech Challenge, and FIRST Robotics Competition), and through hobbies. Although math and science are key to engineering, knowledge in other subjects is important too.
This was a fun experience. It is always great to encourage students to pursue engineering careers (including STEM). Engineers solve problems and there doesn't seem to be a shortage of problems in the future. Today's students will be key to solving those problems of the future.