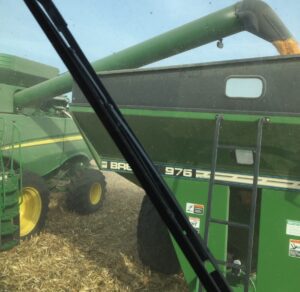 Despite growing up in the grain belt and then starting a career heavily influenced by agriculture, I've never actually been inside a tractor or been on a working farm. Jeremy Hansen, one of the engineers we work with, runs an operation with his family farming northwest of Des Moines and he was nice enough to invite the DISTek Des Moines office crew to experience what it's like in a combine during a corn harvest ride along this fall. We got to spend a couple hours out in the field, riding in the combine, as well as the tractor pulling the grain cart. This was my first time inside a cab and it was a really good experience.
Riding in a combine as it is harvesting corn is more exciting than I would have thought. The header tears into the stalks and there are ears of corn flying everywhere before they're sucked up into the combine and sent off to have the grain removed from the cob. It's a flurry of activity that is a lot of fun to watch. The grain bin filling up makes a pretty good rumble as you're driving along, as well. Then Jeremy's dad pulls up in the tractor with the grain cart so the combine can empty its bin. Jeremy is on the radio with his dad the whole time, getting the tractor's speed synced up with the combine. It's an exercise in teamwork and demonstrates how necessary it is to keep the harvesting operation running smoothly so that time and resources aren't wasted.
Finally, getting into the cab was a great experience. It seems that a lot of us in the agriculture industry only work on part of the system and the big picture can get lost in the shuffle of the day to day work. Getting to see these individual parts get integrated into the whole operation puts what you're working on back into perspective. If you work in this industry and haven't had the opportunity to see some part of this cycle firsthand, be it harvesting, planting, or applying product to the field, I highly recommend it.