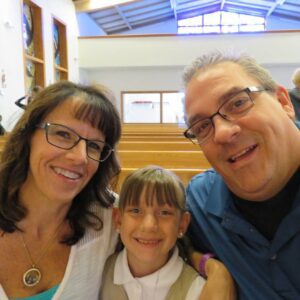 It was 8 years ago that my wife, Julie and I moved from Minnesota to Iowa, when I became the IT Manager for DISTek. What an exciting time that was, as our daughter, Rhea, had just given birth to our granddaughter, Emmalee, in June of that year. And in that same month, our son, Michael, graduated from high school and moved to Chicago to start his college education. Selling a house, buying a new one, moving south, and starting a new job only added to all of that excitement. And we look back with not a single regret.
Fast forward 8 years and much has changed. Emmalee has just started the 3rd grade and smiles wryly as I remind her daily to "learn something new today" as she heads off to school. Her Mom will complete her degree requirements and become an elementary school teacher in December. And in January, Emmalee gets to be the honorary Maid of Honor as Mom is getting married to fiancé Justin.
Emmalee's "Uncle Michael" is now a talent agent for Gray Talent Group in downtown Chicago and "living the dream" as he so often informs us. Grammy runs a day-care in our house in Jesup and Grandpa "has to go to work but will probably get me ice cream if I ask nicely". (She's never NOT asked nicely!)
Both Julie and I were born and raised in St. Cloud, Minnesota. We've known each other since the 3rd grade, and last May we celebrated 30 years of marriage. We're very excited about our daughter's wedding and the opportunities that lie ahead of them as they start their life and family together.
Being close to and a part of our family is equally important to having a work-life that has similar traits. I've been in the technology field for over 30 years, spending the last 18 in technology management. As the IT Manager at DISTek, my role is to not only make sure that the technology needs of the DISTek employees are met, but that all of our systems, data, and tools are secure, accessible, reliable, and efficient. A task, I can tell you, not always easy to come by. With technology continuing to change at a rapid pace, so is the need to adapt and learn to be able to provide adequate and appropriate support. More often than not, just as I tell my granddaughter, I too, learn something new every day.
Along with IT work at DISTek, I'm also involved in facility related matters, e-marketing, and most recently, was asked to be a part of the ESOP Communications Committee. I find the variety of work and the different challenges these roles offer keep me energized and excited for the future of DISTek.
Family, golf, a little Jim Beam occasionally, and traveling to warm places south of the border are activities that keep me feeling young, happy, and excited for tomorrow. I thought I would feel old when I became a grandpa…instead I feel lucky, blessed, and proud!