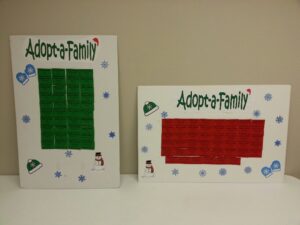 There is a long standing tradition of giving back at DISTek, especially around the holiday season. In late November, as we gear up for Thanksgiving break, where we spend time with our families reflecting on all the things we have to be thankful for, simple white boards adorned with green and red tags make an appearance in the break room. These tags list basic necessities and wish list items from local families, who are struggling to make ends meet. This year, DISTek was fortunate enough to be able to adopt two families and play a small role in making their holiday season a little bit brighter.
From these boards, employees select tags and then the fun begins. From those willing to brave the Black Friday crowds to those who wait until the last minute, gifts start appearing. Uniform polos, snow pants, remote control cars, Barbies, and Legos start to fill our break room table. Software Engineer, Beth Hallett, specifically chooses tags with her own children in mind. "I love participating in this cause because it is so much more personal than some of our other events. It is also a great way to involve my children, as well, to remind them that not everyone is as fortunate as they are. Together, we go shopping and I ask them to assist me in choosing the items. It is truly a privilege to be able to help other families in our community and spread some holiday cheer."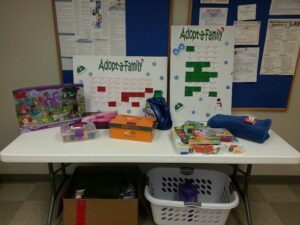 After all the gifts arrive at the DISTek office, the fun certainly doesn't stop there. One evening, after work hours, we congregate in our training room for a wrapping party. Holiday music plays in the background, while all the jolly DISTek elves (some merrily adorned in Santa hats) box, wrap, and tag the presents that soon will be placed under a tree. After all the work is complete, hot chocolate and cookies await. Engineering Assistant, Angie Goodnight, likes to participate for a variety of reasons. "The wrapping party is always a fun time to visit with co-workers that I maybe don't interface with on a regular basis, and all for a good cause," she explains.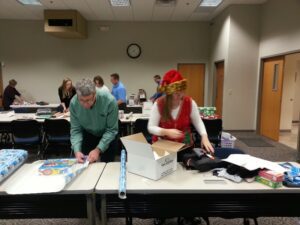 While it may seem that the gifts of this project are the ones wrapped in shiny paper and adorned with a bow on top, but that can't be further from the truth. The true gift, in the spirit of the holiday season, is that joy that we receive from helping others. "With the Adopt-a-Family program at DISTek, I'm able to directly help several families in need, by not only buying gifts, but I also get to give a little of my time, too, by helping wrap the gifts and delivering them to the drop-off point. I feel lucky and blessed to be able to give a little bit of my time and treasure to make someone else's life a little better," notes IT Manager, Bob Theisen.