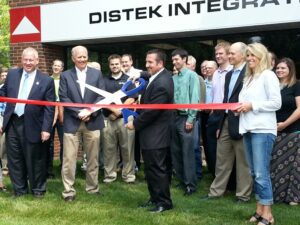 Another year has come and gone and many eventful happenings took place in the history of DISTek. We may look back at 2015 as a turning point due to the substantial changes we made in all aspects of our business. Those end-of-the-year cards you get in the mail always seem to be bragging a little too much, but that is just what I am going to do because I think the year DISTek had is worth bragging about.
The year started with the official opening of our Des Moines-area office in Urbandale. DISTek had previously had some presence in that region, but the growth we had seen and expected to see convinced us that a dedicated office was necessary. Though the office was rather barren to start out, we ended the year nearly full with over 8 engineers and sales people.
DISTek also has explored the business potential in the Milwaukee area for quite some time. We decided to take a calculated risk and open an office in that region as well. Our temporary office in Brookfield opened mid-year and by the end of the year we had three employees working full-time from this location. We have also started to grow our regional business as customers see the benefit of having DISTek close at hand.
In late April, several DISTek employees traveled to a conference in Denver to learn about ESOP (Employee Stock Ownership Plan). DISTek has been in in the process of converting to an ESOP for several years and we are now all officially employee-owners. The conference attendees are helping to spread the knowledge and culture that comes with an ESOP and ownership mentality.
DISTek restructured several teams as Agile teams in 2015. We had previously used Agile on some internal teams and as part of certain customer teams, but we decided to adopt it on a much broader scale across the business. In addition to the engineering teams adopting Agile, we have also adopted several Agile practices in other business functions. Our Sales team was run as a full Agile team most of the year. Though it required some fine-tuning to make Agile work for a much different business function like Sales, the results were positive and there was much that was learned.
And growth … we added a lot of people in 2015. Our employee headcount grew by over 20%, and it is growing ever harder to keep up with all the new faces. We added a technical recruiter and sales staff to go along with a lot of engineers. I think we will keep both busy as we continue to grow into 2016. The last information I saw had at least 4 more engineers starting with us in January, and the month has barely even begun.
One notable technical achievement of 2015 was the design of a modular Hardware-in-the-Loop (HiL) system. HiL is a technique that DISTek has used with multiple customers to reduce costs and time in the testing of electronic systems, so we dedicated the resources to create a standard framework we can reuse for multiple customers. We also expanded our VIRTEC ISOBUS coverage to include Task Controller, and participated at both ISOBUS Plugfests with good success. We started development of technology in the realm of connecting off-highway equipment CAN buses with consumer tablets, but that work is ongoing and it is too early to talk much about that effort.
Many of the markets DISTek serves are not in great shape right now. The Ag equipment business is down from its highs a few years ago with crop prices low, the mining equipment business continues to suffer from low commodity prices and global weakness, much of the construction equipment business has slowed, and most of our customers are hurt by currency weakness (relative to the dollar) across the globe. But we see the future of these industries and our part in them as bright. The global population continues to increase demanding more food, more materials, and more infrastructure. Electronics technologies are a large part of meeting these demands, and DISTek is well-positioned to help our customers apply those technologies.