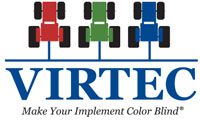 For Immediate Release
Cedar Falls, IA – March 1, 2016 – DISTek Integration, Inc., an acknowledged world leader in ISOBUS technology, today announced a partnership with STW Technic, a premier manufacturer of mobile controllers and measurement technology, to provide a flexible and powerful ISOBUS-compliant electronic controller for the agriculture marketplace.
DISTek has worked with STW to apply its VIRTEC ISOBUS software product to STW's freely programmable controllers. VIRTEC is an ISO 11783-compliant software library for agricultural manufacturers to enable vehicle-to-implement communication via virtual terminal consoles. VIRTEC ISOBUS is now available on STW's ESX-3XL, ESX-3XM, ESX-IOXp and newly released ESX-3CM controllers.
The combination of the highly efficient VIRTEC ISOBUS VT client software and STW's powerful and flexible controllers will allow agricultural OEM's to implement tailored solutions for their products to create a competitive advantage in the rapidly expanding ISOBUS marketplace. As ISOBUS becomes a required capability for agricultural vehicles, the DISTek/STW solution will provide a fast and cost-effective means to achieve compliance without sacrificing the unique characteristics of the machine.
###
About DISTek Integration, Inc.
DISTek Integration, Inc., (an employee owned company) partners with its clients to provide comprehensive applied technology solutions. Clients range in size from small companies with a single project to large Fortune 500 companies with multifaceted, ongoing development needs. DISTek integrates its technical and personnel resources with its customers' to produce cutting-edge design and development processes. DISTek specializes in developing custom embedded solutions, automation and test solutions, and model based software design solutions for customers. DISTek can be found on the web at https://www.distek.com.
About STW Technic
STW (http://www.stw-technic.com) an award-winning provider of a full spectrum of freely programmable controllers, I/O modules, pressure sensors and telematics to a wide range of industries such as mining, construction, agriculture and oil and gas. STW controllers, sensors, I/O modules and Telematics units have attained a leading role in these industries due to their rigorous testing, high quality German engineering and unmatched flexibility. All of STW's products are mobile off-highway rated. STW is also in the forefront of developing and prototyping hybrid drive technologies – generators and motors – for mobile applications.
Contact:
Nick Elliott
DISTek® Integration, Inc.
6612 Chancellor Drive, Ste. 600 Cedar Falls, IA 50613
Office: (319) 859-3608
Nick.Elliott@DISTek.com