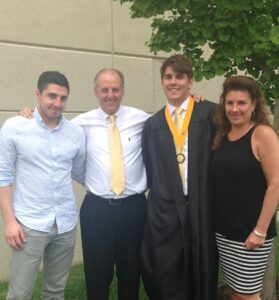 I'm Chad Stapes, and I work as a software engineer on-site at a customer location in Dubuque, Iowa.
My mother, Susan, is a care manager supervisor working for UnityPoint Health, and my father, Rick, builds tires for Titan Tire. My only sibling is an older brother, Cody, who very recently became engaged to his fiancée, Laura. My girlfriend of over two years, Katie, lives in Iowa City and attends the University of Iowa.
I was born and raised in the greater Des Moines area, in a suburb by the name of West Des Moines (very cleverly titled). I grew up playing a lot of sports, excelling in school, and adventuring with a crew of neighborhood friends. I attended Valley High School in WDM, where I continued playing sports and fostered my love for math and science.
When it came time to go to college, I didn't have any clue what I wanted to major in. I did know that I loved math and science and that I wanted to be a Hawkeye, so I joined the University of Iowa College of Engineering as an undeclared engineering major. After a C programming class my freshman year, I took the leap and became an Electrical and Computer Engineering major. During the rest of my time at Iowa, I took a liking to analog electronics and learned to apply both hardware and software techniques to complex problems. I graduated as an ECE major, with minors in Computer Science and Mathematics.
I have a lot of interests and I like to try new things. Currently, I am trying to get better at golf, and Dubuque lends itself well to snowboarding, but I also enjoy lifting weights, biking, playing guitar, watching movies and TV shows, playing video games, cooking (bad) food, and shooting skeet. I haven't had many opportunities to travel, but one of my passions is to see the world and experience a whole bunch of different cultures.
Becoming a DISTek employee has been a fantastic experience. I get to work with one of the industry leaders in construction machinery and learn from some of the best in the business. My employment has already given me some invaluable knowledge that will stick with me forever, so I can't wait to see how much further it will take me.