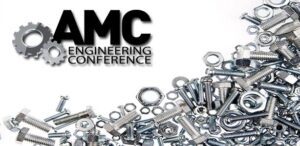 The 2016 AMC Engineering Conference will be held April 19th – 21st at the Five Sullivan Brothers Convention Center in Waterloo, Iowa. This conference provides a forum for agricultural and off-highway engineers to come together to celebrate and grow engineering skills in the Midwest. DISTek's involvement in this conference continues to grow every year. Not only do we have a presence with two members on the planning committee, but we will also be exhibiting and presenting a continuing education seminar.
On the first day, Tuesday, April 19th, DISTek's own Joe Fisher will be conducting the morning continuing education seminar entitled,"ISOBUS for Engineers – The Basics." ISOBUS is the standard for communication between Ag equipment devices from different manufacturers. ISOBUS enables features like a common GUI, data logging, and precision Ag features, such as section control and variable-rate application. This four hour lecture-style course will introduce the entire ISOBUS ecosystem at a high level. The course will cover the ISO 11783 standard, the activities of the Agricultural Industry Electronics Foundation (AEF), and the state of commercial tools available for use in developing ISOBUS applications. This seminar provides attendees four (4) professional development hours of credit. Registration is now open for this ISOBUS seminar.
Also on Tuesday, two afternoon continuing education sessions are also available. Brian Steward, Iowa State University Professor in the Agricultural and Biosystems Engineering Department, will guide a seminar entitled, "Introduction to Hydraulic Components, Symbols and Schematics," which will provide an introduction to fluid power components and their representation with fluid power symbols and schematic diagrams. Also in the afternoon, Al Switzer of Alignex will conduct a session entitled, "Art-to-Part," which follows the process of taking a basic napkin sketch through the CAD process to being created by a 3D printer.
The theme of this year's conference is "Engineering for the Future," and the technical sessions scheduled for Wednesday and Thursday will certainly not disappoint. These half hour presentations will cover topics such as Research and Design, Wheels and Traction, Software and Networks, Drivelines and Bearings, Drones and UAV's, and Geopositioning.
In addition, there will be several featured speakers. On Wednesday morning, Suzanne Cormie, Senior Trade Commissioner from the Consulate General of Canada will be presenting on the topic of doing business with Canada. This will serve as an introduction to the Canadian market, trends, and opportunities for US manufacturers. The Wednesday keynote, following lunch, will showcase a mini-panel with John R. Whitaker, State Executive Director of the US Department of Agriculture's Farm Service Agency, and Bill Northey, Iowa Secretary of Agriculture. Thursday's keynote will feature Kory Anderson of Anderson Industries. Kory will be sharing a personal story as he delves into his journey with entrepreneurial engineering.
The exhibit floor will highlight 60+ vendors in the off-highway industry. DISTek will be set up in booth number 60 near the machinery exhibits, which features both new and historical agricultural equipment and relevant displays.
With so much to see and learn, the 2016 AMC Engineering Conference will be one you certainly don't want to miss. Make plans to join us today!