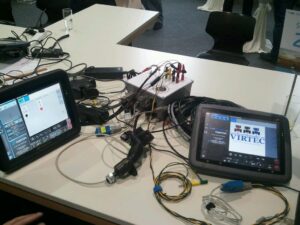 The ISOBUS Spring 2016 Plugfest is just around the corner on May 10-12. As has been the case for a while, the event will again be in Lincoln, NE. This particular Plugfest will be a bit of a milestone for me: if you count in binary, as many of us do, this will be my 1000bth consecutive Plugfest! I have described Plugfest in prior blog posts, but I think you really need to experience it to get the full effect. I continue to find it intriguing to see engineers from competitors sit down at the same table to discuss and work through compatibility problems between their devices. Obviously I have my own bias, but I think anyone designing or supporting electronics on agricultural equipment – or similar equipment such as construction – would benefit from experiencing the Plugfest in person.
Based on the success of the Agricultural Industry Electronics Foundation (AEF) Conference Day at the Fall 2015 Plugfest, the AEF will be hosting a Conference Day on May 11. The Conference Day is an event in which each of the 11 AEF project teams discuss their recent past activities as well as their plans for the future. It is a very good overview of the AEF activities, which mostly focus on ISOBUS but also cover such items as cameras and high-voltage systems. If your organization is on the fence about AEF membership, this event is a great opportunity to help make that determination. Or if your organization is involved with AEF in only one or two project groups, this event will help you decide if you should get more involved in other areas of AEF.
As has been the case for many Plugfests, DISTek will be participating with our VIRTEC product while also supporting several of our customers' ISOBUS products. I do not have the final tally of which companies and products are participating, but I suspect there will be 6-8 different products participating which are running some DISTek software inside.
You can still sign up for the AEF Conference Day or as a Plugfest visitor. Just go to the AEF database and login if you are an AEF member or use the link for Plugfest registration if you are not. If you do attend, look me up and say hello, or feel free to reach out to me ahead of time if you would like to sit and talk about an ISOBUS topic. I hope you can attend and experience the event live, but if not then be sure to watch for a follow-up blog post in late May with a recap of the event.