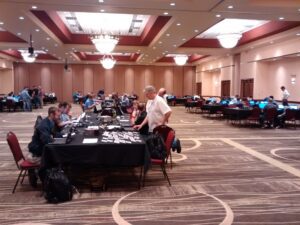 As usual, the Spring ISOBUS PlugFest was held this past May 10-12 in sunny Lincoln, Nebraska. Sadly, Benjamin Jefferson had to miss this time at the last minute, but his bad luck turned out in your humble author's favor, as I (a newer member of the VIRTEC team) got to experience PlugFest first-hand!
Like last year, the event was held at the wonderful Embassy Suites Lincoln, next to the University of Nebraska-Lincoln and the trendy Haymarket District. It's a great place to hold an international gathering with its nice restaurants, shopping, and places to gather and discuss interesting concepts.
But being the professional engineering consulting company that we here at DISTek are, we coolly placed all of that to the side so we could focus on delivering excellent testing value to our VIRTEC customers and a fun blog post to you, dear reader.
In case you don't recall from our earlier PlugFest posts, PlugFest is an event where Ag implement, tractor, and display manufacturers, as well as protocol stack experts (like ourselves) and interested third parties, can gather to test out the compatibility of all of our ISOBUS devices to see what works and what requires rework.
For this PlugFest, DISTek was not only testing out our standard VT Client (implement-side) VIRTEC offering, but also our slightly improved Task Control Client, as well as a new offering: a beta version of our Aux Control Client software stack. ISOBUS Aux Control allows an operator to attach certain inputs in the tractor cab with certain functions of the implement. Much like VTs relieve the implement manufacturers from having to provide a custom display, Aux Control removes the need for custom operator controls. Your author was very excited to see this new stack at work!
Among the gold mine of relevant data we were able to gather from our time here, one notable nugget was the fact that our TC Section Control ability worked, so we were able to report back to the Task Controller that we were applying product out of the different sections appropriately. However, our TC Client example app that we wrote just for testing mistakenly turned on and off the sections by itself, and on a timer no less, which resulted in some very treasure map-looking dotted lines on the test fields that the Task Controllers were loaded with.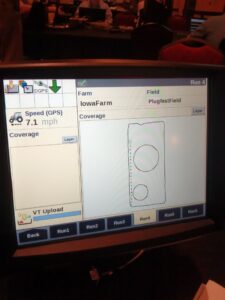 We are also happy to report that our VIRTEC Aux Control beta app worked extremely well out of the box, with only a couple of minor issues to be addressed when we got back to the office.
I haven't even yet addressed the excellent AEF Conference Day, the Task Force meetings, or the other learning opportunities that presented themselves. On top of all the engineering fun to be had, we got to meet several clients, potential clients, and even some interested third parties who were checking out ISOBUS from the sidelines and asking lots of good questions. Perhaps we'll meet you there next time?
The next Spring PlugFest will likely be in the same posh location, and for even more posh-ness you may consider signing up for the Fall PlugFest which is always held in some awesome spot in Europe (this year it will be in Bologna, Italy — look for an upcoming post here about it!). If you're interested in getting plugged in, check out the AEF's website.