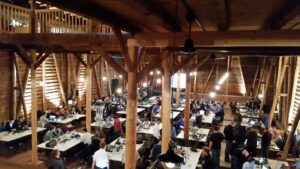 It is that time of year again – the kids are back in school, the nights have started to get cool, and Plugfest is just around the corner. The Ag electronics community from around the world will descend on Bologna, Italy, on September 13th for another edition of the ISOBUS Fall Plugfest. Plugfest was last in Italy in 2011 which was the year before I started attending, so I am excited to get this opportunity. I have a little extra anticipation for this Plugfest since I was unable to attend the Spring Plugfest in May in Lincoln. In April I had promised in this blog that I would be attending the Lincoln Plugfest, but instead found myself in a hospital with an infected and swollen arm. Joe Fisher attended in my place so DISTek was well-represented, but I was still disappointed to miss the event. In addition to all the great technical info that is presented and can be gleaned, Plugfest offers a great opportunity to network with colleagues across the industry.
The upcoming Plugfest might be the biggest yet in terms of participation; the numbers I have seen suggest 50 different stations and 80+ clients to test at those stations. Fitting all that into a three-day testing period is requiring the stations to double-up the clients, providing two different client tests to take place per station per time-slot. This approach has been trialed previously, but I think this may be the first time we are using it on a broad basis. Several of the manufacturers that will be present have been active in the ISOBUS space for many years, but I see a number of names and manufacturers not familiar to me. Hopefully that means ISOBUS continues to grow in popularity and is reaching a bigger target audience of manufacturers. As with the past Plugfests, the various AEF project teams will also be meeting on neighboring days, the AEF General Assembly is taking place, and another AEF Conference Day is planned.
If you work in the field of Ag electronics, you owe it to yourself to make attending Plugfest a priority. If attending both Plugfests in a year does not make sense, then choose either the US or European version and find a way to attend. You will undoubtedly learn a lot and make many new connections with like-minded engineers from other companies. If you will be in Italy for Plugfest this year, please look me up and say hello. It is always nice to know who is reading the blog! And be on the lookout for my Plugfest follow-up post in the coming weeks.