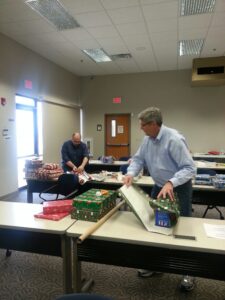 The DISTek elves were once again busy this holiday season. As in years past, we were fortunate enough to be able to adopt two area families again this year to help provide them with holiday necessities and wish list items to make their Christmas one to remember. Tags quickly disappeared from the boards that listed the requested items and soon gifts began flooding into the DISTek break room. Uniform pants, remote control cars, shoes, and play-doh soon spilled from the top of the tables to bins underneath. After all the items were accounted for, DISTek employees volunteered their time to box, wrap, and tag each precious gift, as holiday music played softly in the background. Before long, the gifts were packed up and delivered to a local elementary school to be picked up by excited area families.
This project has become a favored tradition here at DISTek . It is one that many employees, as well as their spouses and children, look forward to each year. We are extremely fortunate and feel incredibly thankful that we have the opportunity to give back to those who may need a little extra help. There is no better feeling than being able to give back and pass along some holiday cheer.
It is in this spirit that we wish all of you a happy and healthy holiday season. We hope your holidays are filled with joy and laughter that continues thoughout the new year!
Please note that our offices will be closed December 23rd through January 2nd to allow our employees to spend time with their families. We will re-open at 8am on January 3rd.