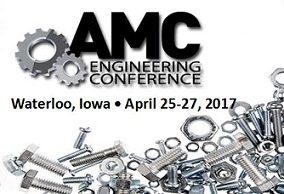 The 2017 AMC Engineering Conference is just around the corner, but there's plenty of time to make plans to attend. This year's event will once again be held in downtown Waterloo, Iowa at the Five Sullivan Brothers Convention Center starting on Tuesday, April 25th through Thursday, April 27th. The 31st annual AMC Engineering Conference provides a forum for agricultural & off-highway engineers to come together to celebrate and grow engineering skills in the Midwest. Here you will find information and inspiration on everything related to agricultural and other off-highway machinery, expanding your knowledge and improving your own skills and business.
The conference begins bright and early on Tuesday morning with two Continuing Education tracks. Dr. Brian Steward from Iowa State University will be on hand to present an "Introduction to Hydraulic Components, Symbols and Schematics" in the morning and "Intermediate Hydraulics" in the afternoon. The other track will be presented by Michelle Gnida from Dale Carnegie®Training. The morning session will focus on project management for engineers, while the afternoon session will be a follow-up that discusses the human element of project management. There is limited space available in these classes.
After the Continuing Ed sessions conclude, attendees will make their way over to the new Singlespeed Brewery at the former Wonder Bread factory just a couple blocks away for the Opening Mixer. The Opening Mixer provides an opportunity for exhibitors to socialize among others. Drinks and hors d'oeuvre's will be offered.
The next morning the conference will be in full swing. Technical session topics for Wednesday include New Products, Electromechnical, Materials, Machine Control & Safety, Wireless & Networking, and Simulation, Modeling, & Analysis. DISTek's very own VP of Business Development, Benjamin Jefferson, will be on hand to present a session at 3pm in the Wireless and Networking track on the topic of ISOBUS TIM. The luncheon keynote speaker will be Brandon Hart, Technical Business Director, from Nimblelink. He will be discussing the intersection of IOT, Ag, construction equipment, big data and opinions on current and future trends in these areas. After tech sessions conclude for the day, attendees are invited to assemble on the exhibit floor for social hour. While milling around, make sure you stop by to visit the DISTek booth where we will have our HIL demo and Dash Test System on display.
Thursday is also another full day of tech sessions and excitement. Tech session topics include Data Acquisition, FIRST Robotics & STEM, Simulation, Modeling, & Analysis, Internet of Things, Filters, and Fluid Power. DISTek will again be presenting two tech sessions in the Modeling, Simulation, and Analysis track. DISTek Test Engineer, Daniel Aceituna, will be presenting at 9am on Functional Safety Assessment and DISTek Engineering Manager, Dillon Glissmann, will be presenting at 10am on Hardware-in-the-Loop. The luncheon keynote speaker will be Dr. Steven Mickelson, Department Chair, Iowa State University, Agricultural & Biosystems Engineering Department. He will be discussing the department's journey to a top ranked program.
As you can see, the three days of the AMC will be packed with technical sessions, keynotes, networking opportunities, and an exhibit hall full of vendors. If you are interested in attending this year's conference, there's still time to join us. Registration is still open for the continuing education sessions, as well as the conference. We hope to see you there!