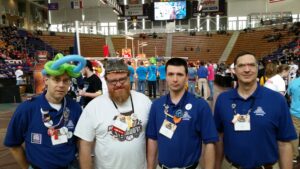 Along with two other employees at DISTek, I received the privilege to be a judge at the Iowa regional FIRST Robotics Competition. The theme this year was steampunk and teams needed to work cooperatively to power a Victorian era steam powered airship.
The competition involved two alliances of three teams, each competing to score the most points. These alliances were chosen randomly and would change between matches. This caused teams to need to cooperate with teams who previously served as their competition. The robots were tasked with shooting balls in a boiler, transporting and positioning gears on a lift to fix rotors and finally climbing a rope to board the airship. Matches were fast and frantic as six robots raced back and forth across the field scoring as many points as they could in only a few minutes.
The regionals took place for 3 days with 2 days of competition. As a judge, our job was not to watch and score the matches, but to interview teams and identify candidates for various awards. Awards included industrial design, team spirit, gracious professionalism, along with many more. To that end, we would need to interview all of the teams looking at not only their technical capabilities, but also community involvement, team work and many other areas, which was quite a daunting task with 54 teams.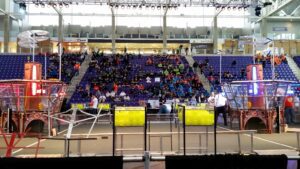 The following day, we broke into pairs and began interviewing teams. Pairs of judges had to interview 20 teams each. This meant there would be overlap and that every team would get the chance to speak with as many different judges as possible. Throughout the day we started identifying contenders for the various awards.
On the last day we had to make the final decisions, but first spent the morning doing additional interviews to help narrow down the lists and talk to teams that we might have missed. Despite having 54 teams, 20 judges and numerous awards to work through, the judges worked well together and efficiently came to consensus on the awards.
At the end of the event, what impressed me the most was not the technical capabilities of the high school students, but how much the teams and FRC focused on good sportsmanship and encouraging each other. I heard stories of first year teams coming to the competition with nonfunctional robots and other teams scrambling to get them up and running. I heard another story of a team working to install additional components from their team on another team's robot. There was also one team that was known as the "go to" place for supplying spare parts and tools for other teams. The attitudes displayed by the students at the FRC could serve as an example and as role models for adults the world over.
Would I do it again? I most definitely would, but not because of all the fun and excitement, not because of the great things the students did and not because of the robots. I would do it again because I could continue to learn a lot from the example that the members of FIRST could continue to teach me.