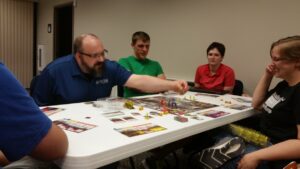 DISTek's employees aren't just all work and no play. We frequently do a variety of different activities after hours. Let me tell you how I got into some of the after hours activities almost instantly after I started working at DISTek, including how I implemented Board Game Night, as well as my thoughts on the LAN Party, which was my first interaction with the DISTek Activities' Group.
A few weeks after I started at DISTek, I read on our internal social media app, Yammer, that LAN Parties were hosted every month or two on Saturdays in our big training room. When the next one came up, I woke up early and packed up my laptop and went and joined up with the LAN Party group. At the LAN party, we all got a flash drive with a wide variety of free games that would be played that day. I felt there was a diverse collection of game types, but didn't feel pressured to play any games that I didn't enjoy. At this event, I also found out that many of the employees were interested in board gaming. So I ended up posting a survey on Yammer to glean interest in a board game night and got a great response, so I promptly scheduled the first Board Game Night to take place a week later. On that Wednesday evening, I packed up my board games with a decent variety of games, from 7 Wonders to Betrayal at House on the Hill. A handful of people showed up and we played 2 or 3 games with a decent spread of winning and losing across the board. Due to the turn out, I decided to make Board Game Night an every other week event and the turnout has been terrific. Recently, we even added a ping pong table to the training room, which seems to get used quite frequently during lunch breaks as a form of relaxation.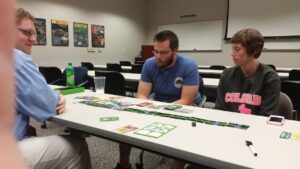 DISTek employees are much more than just engineers behind computer screens. We have many hobbies and activities that we are involved in and I think it is fantastic that we work at a place that encourages and supports having fun inside and outside of work. I'm looking forward to the next Board Game Night – see you there!