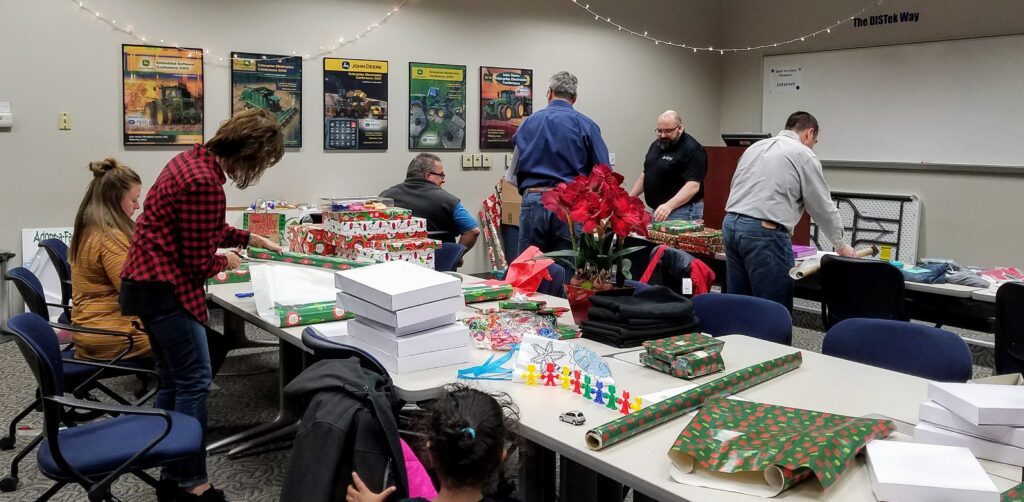 ♫It's the most wonderful time of the year♫…..DISTek continues the tradition of giving back:
Once again this year, as in previous years, the DISTek Cedar Falls office adopted two families from the Waterloo school district to help make their Christmas a little extra special. We received a wish list from each of the families and shared these with DISTek Elves (employees) who set about fulfilling everything (and even some extra items) on their lists. As usual, Elves were very generous, going above and beyond the wish lists!
But it's not enough to just make the toys, the Elves had a wrapping party, which included hot cocoa, cookies, and some holiday music, and made sure each gift was wrapped and prepared for transportation on Santa's sleigh. With approximately 10-15 Elves and some of their family members participating in the wrapping party, it made for a magical afternoon. And after loading all of the gifts into one of the Elves mini-sleighs, they were on their way to an elementary school in Waterloo so that Santa could complete his mission.
This project has become a tradition here at DISTek. Many of the employees look forward to this each year. We are fortunate and thankful that we have the opportunity to give back to those who may need a little extra help. There is no better feeling than to give back to others.
As we enter 2018, we look forward to another year filled with happiness, success, and fulfillment. Happy New Year!