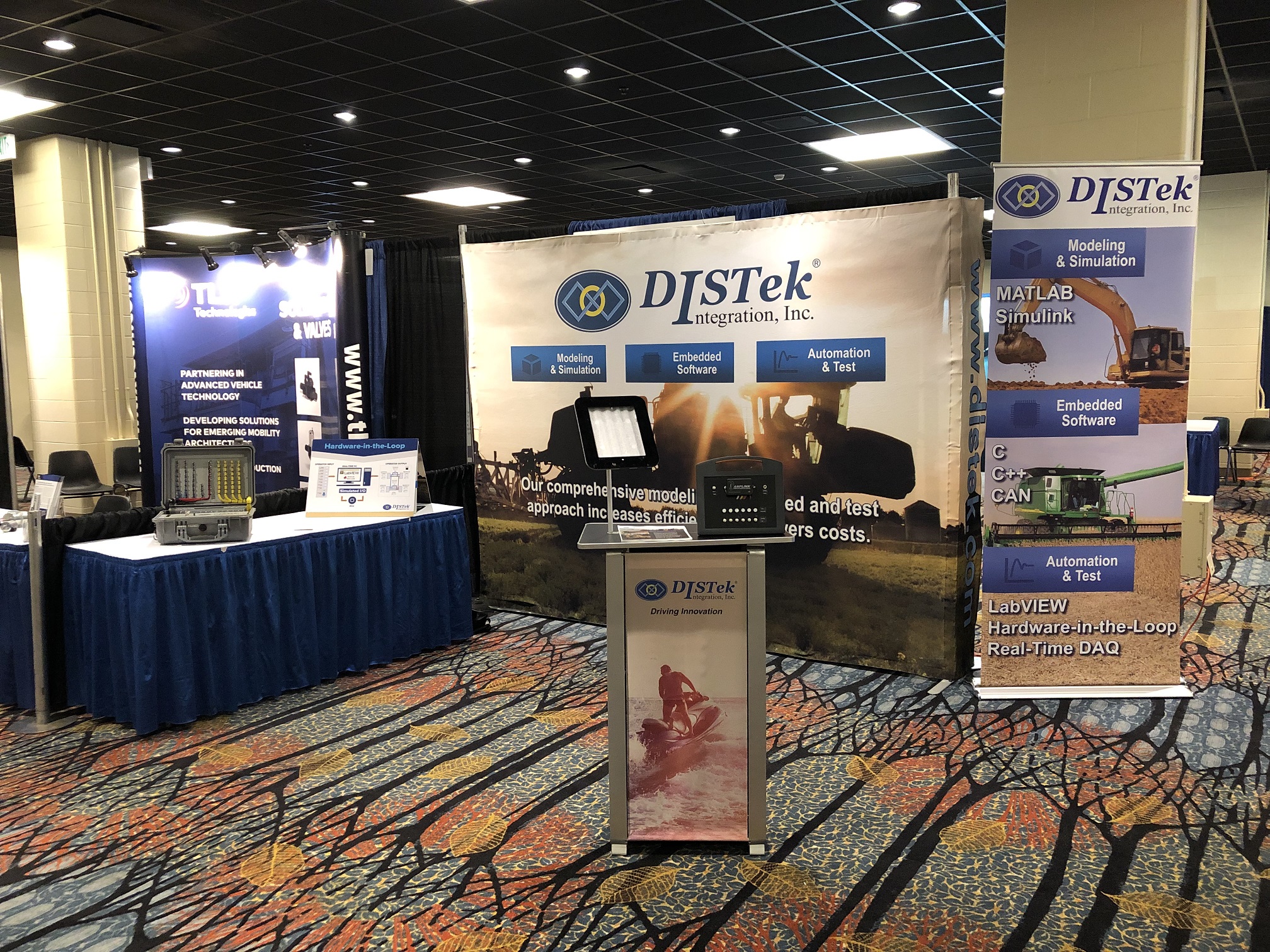 Here at DISTek, there has been a flurry of industry events that are taking us around the country and around the globe. A couple weeks ago, DISTek had a booth at the Embedded Systems Conference in San Jose, CA, for the first time. We have sent engineers to various Embedded Systems Conferences for 20-odd years, but this is the first time we have had a booth showcasing our expertise. The show was held in conjunction with Drive World Expo to give an automotive flavor for the first time, and that helped tie the show content closer to the types of projects in which DISTek normally gets involved.
In case you missed us in California, you can find us at the SAE COMVEC (Commercial Vehicle Congress) show in Indianapolis, IN, this week with another booth. This annual show has a great mix of technical content and networking in our focus industries of commercial and off-highway vehicles. Definitely look us up in booth 308 if you are at the show!
Later this week is a bit of a different event, but no less important to DISTek. While it will not be a sales focused effort, DISTek will have some employees attend the 2019 Midwest ESOP Regional Conference in Bloomington, MN. ESOP and employee-ownership is a big part of what makes DISTek who we are. We welcome the opportunity to learn from others on their ESOP journey as well as share some of what we have learned (and are still learning!) on our ESOP journey.
And if all that is not enough, three of us (including yours truly) have to suffer next week in the French Riviera at the 2019 Fall AEF Plugfest. For as nice as the area will be, it is definitely the case that the work will be long and tedious on Tuesday-Thursday with 100+ different participating pieces of equipment. Certainly look us up if you are at this event, though if you are participating we will probably encounter you anyway. We will have both a station with a UT Server as well as a TC Client, so our engineers will get to cover almost the whole spectrum of equipment. It is a lot of work crammed into 3 days, but it is also quite productive … and it is great to engage with many of my industry colleagues from other parts of the world. Come to the Plugfest if you can, because your next opportunity will not be until May 2020.
After Plugfest, DISTek gets back to a little more normal routine for a few months. But while we may not be out at as many industry events after Plugfest, you can still feel free to look us up. We are always interested to see and hear about new and exciting technologies being introduced in the off-highway market.