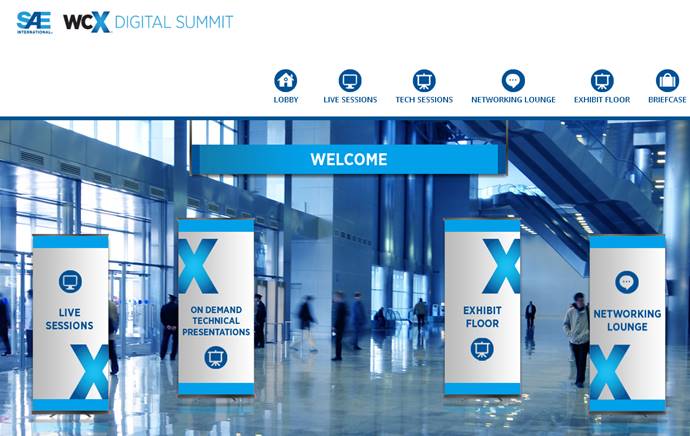 I have been a member of the Society of Automotive Engineers (SAE) for a number of years and have attended several different SAE events over the last decade. In 2018, I started attending the SAE WCX, a show focused on passenger car technologies, formerly known as the World Congress. Insights into the technologies of today and tomorrow in passenger cars are definitely informative as DISTek seeks to be ready for new technology applications in the Off-Highway industry where we focus. Of course, not everything is directly applicable, but much of it is to varying degrees.
In both 2018 and 2019, I was only able to attend a single day of the 3-day WCX event due to other obligations. Early in 2020, my calendar looked clear for the week in April when WCX was scheduled to occur in Detroit. And then … COVID-19. As was the case with nearly every other large gathering of people, the in-person event was cancelled. SAE decided to move to a virtual/online format taking place June 16-18. Below are some of my thoughts of my first in-person-turned-virtual event.
The event was presented with five live 45-minute sessions per day, each with 3-4 presenters and time reserved for some questions. Several recorded tech sessions were also available, though I only watched one so far, which was about twenty minutes in length. These sessions were categorized into five broad topics, and just in the Electronics/Connectivity topic there were 22 sessions, so I assume there were close to 100 total talks available and I look forward to exploring the topics further. The platform had a Networking Lounge as well, but other than a public chat feature, which was sparsely used, it did not offer anything of interest to me. The platform also had an Exhibit Floor with only five exhibitors, other than some SAE virtual booths. I was disappointed with that number since the in-person show had dozens of different exhibitors to visit. I am unsure if the small quantity of virtual exhibitors was due to supply of willing exhibitors, a limitation of the platform, or some other reason.
Overall the technology aspect of the event worked rather well. I was at home, in my basement, using my personal internet being shared with five other family members, yet the audio and video generally seemed to work just fine. Most of the presenters were also on some sort of personal internet connection at their homes, so I am glad that part of the program worked well. On the other hand, as with many virtual meetings, there was a little too much of the "can you see my screen", "you are on mute", or "can everyone hear me" comments each time a new presenter came online. The conferencing technology being used was unfamiliar to many of the presenters, so figuring out which screen to share or how to unmute a microphone wasted some time. Of course, these issues are annoying, but it seems to be the nature of the game right now and we just have to live with it.
My favorite live session was entitled "Next Generation of Prognostics Development". This is a technical topic area that DISTek is currently applying resources to in an effort to ramp up our technical competence. It was interesting to see and hear different ways prognostics, also known as Predictive Maintenance, is being pursued and applied to the mobility industry.
One aspect of the in-person event from prior years that was missing this year was a series of panel discussions with industry experts and executives covering broad topics applicable to the industry. I missed hearing from corporate leaders and government policy makers. I am unsure if the reason these were not included was something SAE had already planned for 2020 WCX, or if it was a change driven by the move to a virtual format. I think it should have been possible to support such sessions, so if they hold another conference with the same virtual format I hope they consider re-adding that to the schedule.
Overall my WCX virtual experience was positive and I would do it again given the opportunity. Not needing to travel to Detroit and trying to work that around other obligations is nice, but I still prefer the in-person event. I think event organizers in general will need to continue to innovate and experiment with how to make virtual events as engaging as in-person events.