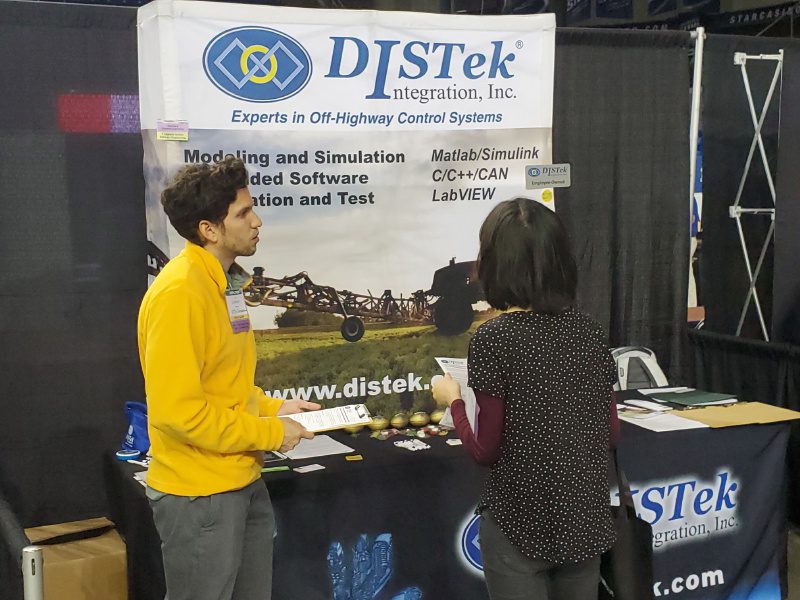 Say goodbye to using a firm handshake, direct eye contact, and polished business suit to capture potential employers' attention.  Say hello to presenting yourself via chat rooms, email, and even instant messaging.  College career fairs have gone virtual.  Welcome to searching for a job during the COVID-19 pandemic.
Virtual career fairs, just like traditional ones, allow employers to gather to meet with job seekers and discuss employment opportunities.  Except, at virtual career fairs, the meetings are held on an interactive platform.  Participation in virtual career fairs requires a huge mind shift.  Comparing traditional in-person career fairs to virtual career fairs is like comparing apples to oranges; they achieve the same goals but look completely different.
These changes are not only impacting students looking for jobs, but potential employers are also having to quickly change their approaches to recruiting.  Here at DISTek, we recently experienced these changes when participating in the Iowa State University (ISU) College of Engineering Career Fair.
Having the ISU College of Engineering Career Fair go virtual had its pluses and minuses.  Recruiters benefited from being able to view resumes and reach out to students in advance, letting them know that there was interest in talking.  Some participants reported the experience felt more like an interview than a quick career fair chat as recruiters had time to review the resumes beforehand and pull questions based upon them.  Plus, there were technical issues which created challenges for everyone.
Despite the differences and challenges, DISTek experienced success at the ISU Career Fair.  Seth Noel, one of our software engineers who represented DISTek during the career fair, said, "I think the overall experience was a good one.  I met with some candidates that I would be excited to work with at DISTek."
Lydia Pullis, our Human Resources representative who regularly screens candidates, added, "Overall, in-person is probably better for connecting with students, but we were still able to adapt to have a productive career fair this year to find prospective employees."
Whether looking in-person or virtually, we search for the same traits in potential employees.  In hiring full-time engineers, we focus on if the candidate and DISTek are a good fit.  We look at experience – what the candidates gained from internships, jobs, activities, and classes – to verify their backgrounds and desires match what we do.  We also consider potential employees' attitudes to working on large vehicles – are they comfortable around big machines such as tractors and do they like hands-on work – are they comfortable getting their hands dirty dealing with hydraulics.  Finally, we also examine knowledge and skills – what is their major and how strong are their problem-solving abilities, communication competencies, and programming language expertise – Embedded C, Simulink, and/or LabVIEW.
While COVID-19 altered traditional college career fairs this fall, students and employers have adapted to make the most of their virtual experiences.  The bottom line is no matter if potential employees are using a  firm handshake, direct eye contact, and polished business suit to capture potential employers' attention or presenting themselves via chat rooms, email, and even instant messaging, DISTek continues to search for the candidates who are the best fit with our company.
For more information about job opportunities at DISTek, please visit our Careers page or connect with DISTek HR via careers@distek.com.  As an employee owned company, DISTek is always looking for great talent and offers opportunities for engineers ready to grow their careers.