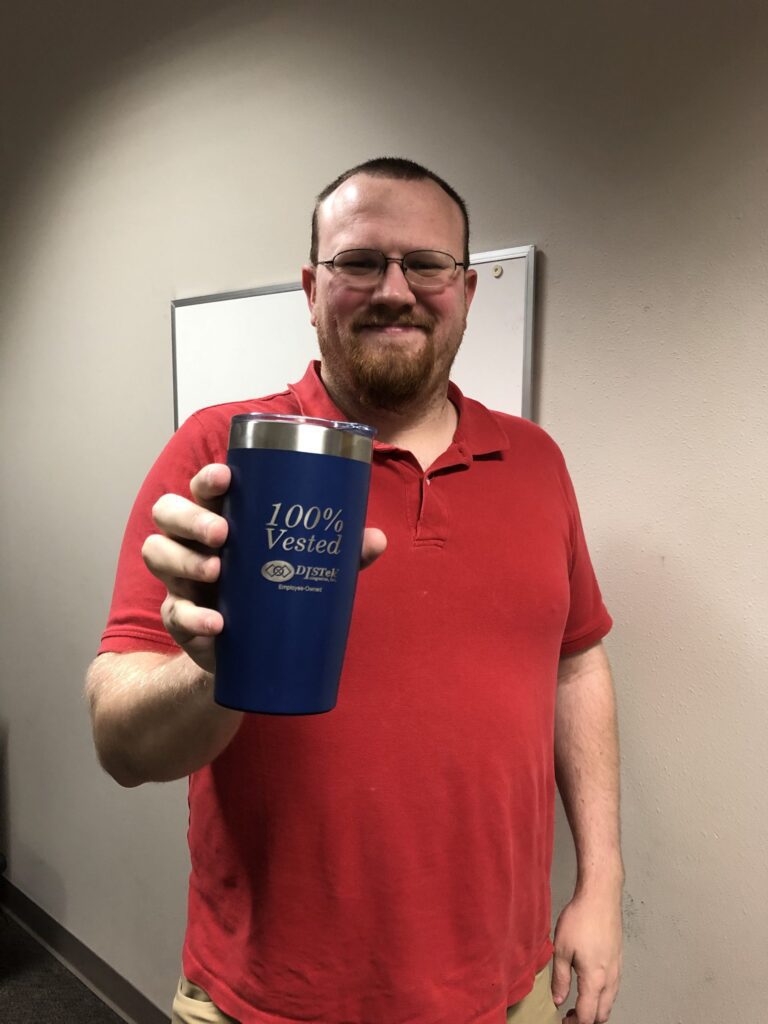 DISTek Integration has always been an employee owned company, dating back to its beginning days in the basement office of the then, sole proprietor, Matt Dickinson. As both the only owner, and only employee, for many years, "celebration" may simply have meant not having to work on Saturday.
Fast forward some 25 years and DISTek is owned entirely by its 100+ employees by virtue of our Employee Stock Ownership Plan (ESOP). Celebrations occur as often as time and resources permit, sometimes involving the entire organization, other times merely a team lunch to applaud the successful completion of a project, or sometimes just a celebratory posting on social media recognizing a birthday or anniversary. "Finding the time" to recognize and celebrate who we are, what we do, where we've been, and where we're going becomes increasingly challenging (and let's not even mention being in the midst of a global pandemic!) as companies become larger, busier, and more geographically dispersed.
A long time ago, the ESOP Association set one month of the year aside as a time to acknowledge and celebrate employee ownership. DISTek, along with many other employee owned companies, now regularly recognize October as Employee Ownership Month. Of course, due to the many necessary restrictions and protocol required in dealing with COVID-19, this year's Employee Ownership Month was an entirely virtual affair.
We started the month by providing every employee owner logoed T-shirts with "100% Employee Owned" boldly emblazoned on the front. Everyone was also provided the opportunity to purchase additional shirts where the proceeds, plus a company match, helped raise $500 to be donated to Feeding America! DISTek Pride Day held on October 20th showcased employee owners proudly wearing the DISTek colors.
Another activity this year included weekly trivia, with questions targeting not just ESOP, but DISTek and even location specific knowledge – who knew that Des Moines, Iowa holds a pre-Halloween festivity called Beggars' Night? Prizes for each week's winner and a grand prize to the employee owner that answered the most questions correctly arrived electronically in their inbox.
Employee Ownership Month is also a great time to educate employee owners on some of the different ways that their efforts can contribute to the overall success of the company. The DISTek ESOP Communications Committee took some time to provide information throughout the month on different ideas on how to live a healthy lifestyle, ways to take an active role in wellness initiatives, and suggestions about participating in DISTek health programs that can help reduce insurance premiums.
We concluded the month with an online virtual event that began with our annual Halloween Costume Contest – those sporting costumes were judged based on, well, nothing at all, really, but one lucky DISTekian posing as Carole Baskin, of Tiger King fame, was awarded the Best Costume prize. We then followed up the Halloween fun with a special recognition of any DISTek employee owner that had achieved the status of 100% vested in the DISTek ESOP. The 34 employee owners that achieved this status will be receiving a certificate and a DISTek thermal mug by special delivery.
Employee ownership is something we take very seriously at DISTek. It provides a sense of pride, is recognized and is celebrated. We do this because at DISTek, you don't just work here, you're an owner!