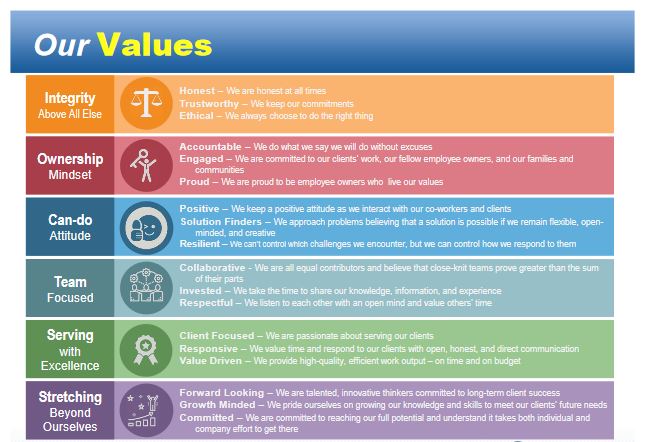 DISTek has a long tradition of staying true to our guiding principles that help define who we are – our core values – and our commitment to treating others how we would want to be treated.  Core values keep us focused and state the behaviors that we expect from each other, while also making our company unique. Yet words and ideas merely listed on paper are meaningless without the link to real action. As employee owners, we need to live our values and put them into action in our daily work practices. When we consistently align our business interactions with our core values, the vision for future success remains ever clear.
What has now become an annual tradition; we recently took time to recognize several DISTek employee owners with our DISTek Way Awards. Nominated by fellow coworkers, this special award recognizes employee owners who have put the DISTek core values into daily action – living the DISTek Way.
As we reflected back on our previous years accomplishments, we also took time to honor six individuals who have taken the DISTek core values to a higher level by not only demonstrating them, but also embracing them through their daily actions. They provide outstanding examples of living the DISTek Way by excelling at living out our values on the job.
Congratulations to our 2020 DISTek Way award winners!
Integrity Above All Else – Jason O'Halloran – Des Moines, IA
Ownership Mindset – Nathan Volkert – Dubuque, IA
Can-do Attitude – Benjamin Hall – Des Moines, IA
Team Focused – Beth Hallett – Cedar Falls, IA
Serving With Excellence – James Radwill – Milwaukee, WI
Stretching Beyond Ourselves – Gerardo Zamora – Fargo, ND
Being nominated by your colleagues is a special honor that highlights the commitment they have to the DISTek Way! With 2020 having presented many challenges, these six award winners provide a perfect example of how we can't control what comes our way, but we can control how we respond to it.