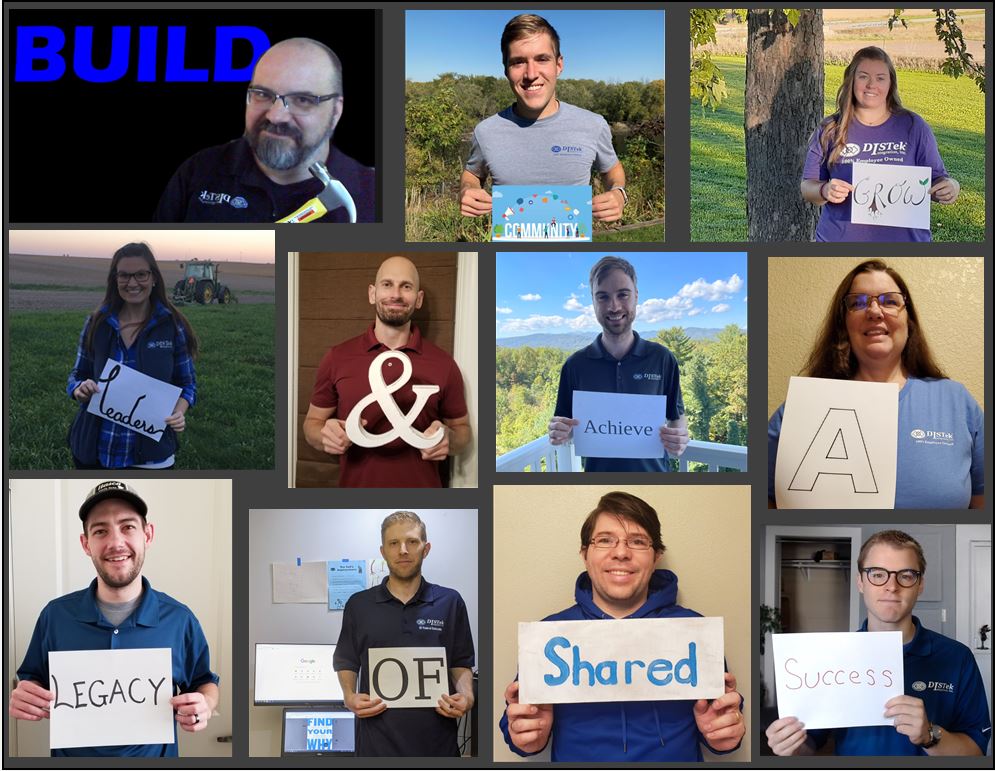 When I hear the term "why statement", I think about a defining, short proclamation that explicitly states my purpose – the reason I get out of bed in the morning, what fuels my passion, what motivates me, and why I do what I do.  Why statements can be personal in nature, but they can also exist at the company level.
In today's competitive job market, research has shown that employees and prospective employees are looking for more meaning and purpose in their professional lives – in other words, they want to feel that they're really contributing and making a difference in our world.  In fact, Harvard Business Review, has reported that more than 9 in 10 of us would be willing to earn less money for the opportunity to do more meaningful work and have a professional cause to unite around.  Now, no need for concern, no one is proposing that happens at DISTek, but that just goes to show how valuable a defined purpose is for a company.
In the past year or so, here at DISTek, we've really been digging deep in our employee engagement survey results from 15Five (formerly known as Emplify), that we conduct quarterly.  We've been paying special attention to the drivers of meaning and purpose.  The meaning driver represents how well the organization helps employees have a sense of value (purpose, money, status, and influence) when they immerse themselves in their roles.  Directly tied to this, and at a higher level, the purpose driver represents how well the organization communicates to employees why it exists beyond making a profit.  Yes, the warm and fuzzies of why DISTek exists and the driving force that all employees can unite behind – something bigger and deeper than just making money.
Back in the second quarter of 2021, the sales team had just wrapped up our monthly book club where we reviewed Start With Why by Simon Sinek.  In the book, Simon explains how some of the world's greatest leaders inspire themselves, as well as other people to take action, buy their products, or champion their cause by clarifying, understanding, and communicating their purpose – their WHY – before communicating anything else.  Around this same time, we had an employee experience first-hand a Why Statement roll out that was conducted by one of our clients.  These events, coupled with the increased focus on the meaning and purpose driver results from the employee engagement survey, started a flurry of passionate conversations about DISTek having our very own Why Statement.  With leadership fully on board, the Culture Committee took on a 2021 third quarter initiative to develop our very own Why Statement.
It took us the better part of the third quarter to land on a single statement that we all stood behind and believed in – that provided the insight as to the larger meaning of why we are all here at DISTek.  The biggest challenge that we probably encountered was the difficulty structuring a Why Statement around the fact that we are a services company.  We found many examples of Why Statements from companies that offer a product. However, when you don't have a product to sell, what do you formulate your why statement around?  Well, our biggest asset, of course, is, without a doubt, our people.  Without our people, we simply do not exist.  We can not be successful in winning projects, playing a role in developing high level off highway equipment, creating raving fans in our clients, or building a prosperous ESOP company.
I'm both proud and excited to announce DISTek's  Why Statement:
Build community, grow leaders, and achieve a legacy of shared success.
We've put a lot of thought into the development of this Why Statement and are extremely hopeful that every DISTekian can glean purpose and meaning from the sentiments expressed and relate to them on a personal level.  In fact, the Culture Committee feels so strongly about the personal connection to this statement that a number of members have already shared their why and what it personally means to them at a company level.  In the coming months, we hope to lead discussions with our fellow co-workers and challenge each one to find their why.  We are excited and passionate about our Why Statement and can't wait to share that enthusiasm with all of you.