"We're back!" Those were the first words the emcee spoke at the 2022 FIRST Championships in Houston, Texas, this past April. It had been three long years since the last Championships event, or Worlds as many like to call it. While some aspects of the event had changed, as one would expect during the time of COVID, the competition and the camaraderie were alive and well. It was truly an experience like no other to the students, mentors and me. However, one thing that surprised me the most was not necessarily any of the changes to the event itself, but the changes to my team afterwards.
I mentor for the Cedar Falls High School Robotics Team #525, the Swartdogs, named after the Physics teacher who talked his students into following his crazy idea of starting a robotics team after watching a VHS tape of a team from Iowa City in 1998. FIRST, which stands for "For Inspiration and Recognition of Science and Technology", is a robotics community that inspires young people to be STEM (Science, Technology, Engineering, and Mathematics) leaders and innovators through a set of inclusive, team-based robotics programs for pre-K through 12th grade. My team is part of the FIRST Robotics Competition, or FRC, which is a program for 9th – 12th graders. The other programs include FIRST Tech Challenge (grades 7-12) and FIRST LEGO League (grades pre-K – 8).
We punched our ticket to the Championships at a competition in Minneapolis, Minnesota, at the beginning of April. While our robot performed very well at the competition, we earned the advancement for the work our team did off the field for promoting and facilitating teams and communities to further STEM activities and leadership. In other words, the judges felt that our team made a measurable, lasting impact on our community and beyond. This award, the Chairman's Award, is the highest award you can win in FIRST. We were so honored that all our hard work throughout the past few years was recognized.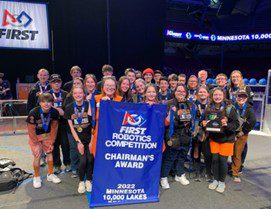 After winning the Chairman's Award in Minnesota, it was quite a whirlwind. The competition ended on a Saturday evening, and Championships started 10 days later in Texas. We had very little time to make repairs to our robot, refine our award presentations, scout other teams going to the event and pack, not to mention determining the logistics of transportation, lodging, food and, of course, funding. With hard work and tremendous support from our families, school and community we were able to pull it off. Nine days after winning the Chairman's Award, we loaded into 4 vans and a truck pulling a trailer to begin our 2-day, 20-hour trek to Texas.
I have been to a handful of World Championships over the past eight years, and this event did not disappoint. In fact, on the competition side, it was arguably the most spectacular event I have ever been to. Walking into the competition area and seeing six 28' X 54' game fields laid out end to end with tall bleachers on either side was amazing. It felt like they went on forever. Looking to the right, I could see the pit area for over 400 FRC teams from around the world lined up in rows, much like its own village with street names included. The pit area is where teams keep their tools and work on their robot. Most teams set up their 10' X 10' area with tents, banners, signs, demos and other bling promoting their team. It is extremely hard to describe the spectacle and the massive size of the room that houses all these fields and pit areas. It was truly a "you have to see to believe it" type of moment and this was only the FRC portion. There were other areas of the convention center that housed fields and pit areas for the other FIRST programs.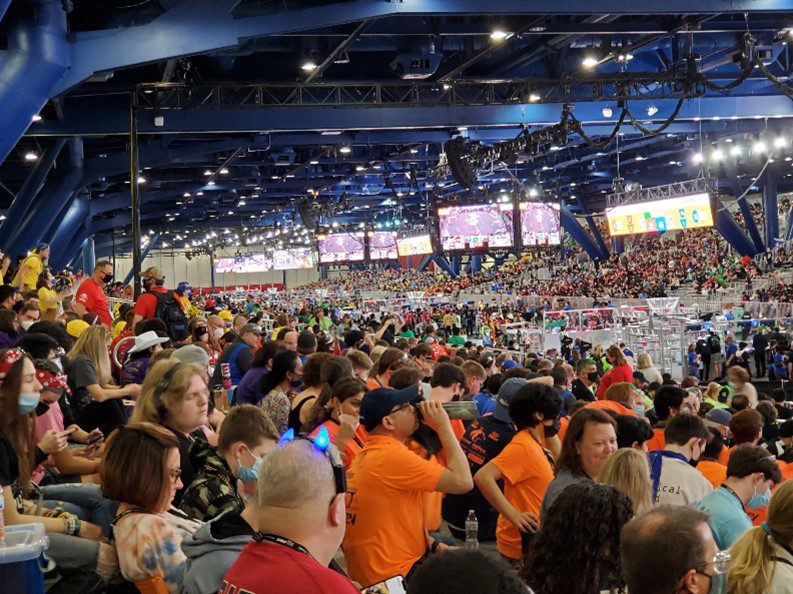 Throughout the event, there were over 30,000 people cheering, singing and dancing, paired with the fast-paced movement of robots and team members going back and forth between the fields and the pit area. Team members and fans dressed in their team colors, wearing their team shirts at the very least, many with colored hair and painted faces, not to mention team costumes and mascots. I always describe these huge events as a cross between Comic-Con and NASCAR. You never know what type of characters you will see walking around. Many people call FIRST robotics a sport for the mind. The excitement and cheering you hear as a robot grabs the top rung at the very last second of a competition rival any sporting event you could attend.
Stay tuned for part 2, as I continue to describe the excitement of the event, as well as some lessons learned along the way!