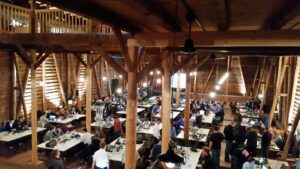 The ISOBUS Fall 2015 Plugfest wrapped up a couple weeks ago in Wörth am Main, Germany. If you do not know what ISOBUS or its Plugfest are, you can look at my previous blogs for a tutorial. The attendance for this Plugfest rivaled last year's Fall Plugfest in Senlis, France, with 127 participants and 76 visitors. Participants had the typical UT and TC clients and servers, but there were also 4 FMIS's and 5 TECUs. I do not know the numbers on other devices, but there were certainly several Aux Input devices, a couple Data Loggers, and some other devices with newer prototype ISOBUS features.
This was DISTek's sixth consecutive Plugfest testing our VIRTEC ISOBUS stack. Newer features for us were the TC Client and the Aux Control Inputs and Functions. For the most part, everything worked well, though we did find a few bugs in our code … and we found some bugs in the server devices. It is always good to attend the Plugfest to find some bugs in corner conditions; my opinion is if you try too hard to have your code too "perfect" that you are missing some of the point of Plugfest. It is an engineering event where we all work together to improve compatibility and dig through tricky engineering problems rather than a public event where everyone is trying to impress end customers.
This Plugfest took place September 29th – October 1st, but had other related events all week. In addition to the usual AEF group meetings, AEF also had its annual general assembly meeting on Thursday. A new event was also added this year, the AEF Conference Day held Wednesday. This day gave each of the 11 project groups 30 minutes to describe its work and current status. This was a great opportunity for the audience to get a broad overview of everything that has been happening in AEF as a whole, and what things are being pursued for the future. I know the AEF leadership was very pleased with the turnout from this event, and as an attendee I found it very beneficial as well.
The next Plugfest will be in Lincoln NE in May 2016. DISTek will be there again, so let me know if you plan to attend. If you are unsure if it is worth your time to visit a Plugfest, feel free to reach out to me for a fuller picture of what the experience is like.