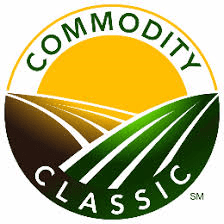 DISTek is on the move again after what may seem like a quiet few months since AGRITECHNICA. Of course we have been busy internally, and we did visit the Indiana-Illinois Farm and Outdoor Power Equipment Show and the Iowa Power Farming Show back in December. But our heavier show-season is getting ready to kick off in earnest starting with…
The Commodity Classic in Anaheim, CA, running from February 27th through March 1st. DISTek will be there sharing a part of a booth with our friends from Powell Electronics. You can find at least one of us at that booth to discuss ISOBUS, tablet usage on the farm, or any other electronics topics for off-highway equipment. We also plan to spend some time at the AEM (Association of Equipment Manufacturers) booth which will be hosting the AEF (Ag Electronics Foundation). The AEF chairman, Norbert Schlingmann, will be visiting from Germany, so be sure to bring your hardest AEF or ISOBUS questions for him.
The following week is World of Asphalt in Houston. We do not have a booth at this one, but DISTek will be there visiting the show. DISTek has seen a recent uptick in business in the road construction equipment industry, so we are excited to check out this show for the first time.
April and May will bring even more opportunities for us to get out of the office. A couple of us will be attending a great set of three concurrent conferences from VDI in Dusseldorf in early April: Autonomous Trucks, Connected Off-Highway Machines, and Smart Farming. At the same time, DISTek will be visiting SAE World Congress in Detroit. And later that month is a Product Safety & Compliance seminar by AEM in Chicago. Then in May we will be visiting the ISOBUS Plugfest in Lincoln followed by NI Week in Austin.
We are always excited to talk with industry peers about the applications of electronics to mobile equipment. Let us know if you would like to meet at any of these events. Or if your schedule does not match with ours but you would still like to meet, send us a note and we will get something set up. And let me know if this blog entry, and the blog in general, is something you read and appreciate; leave a comment or send me a note.