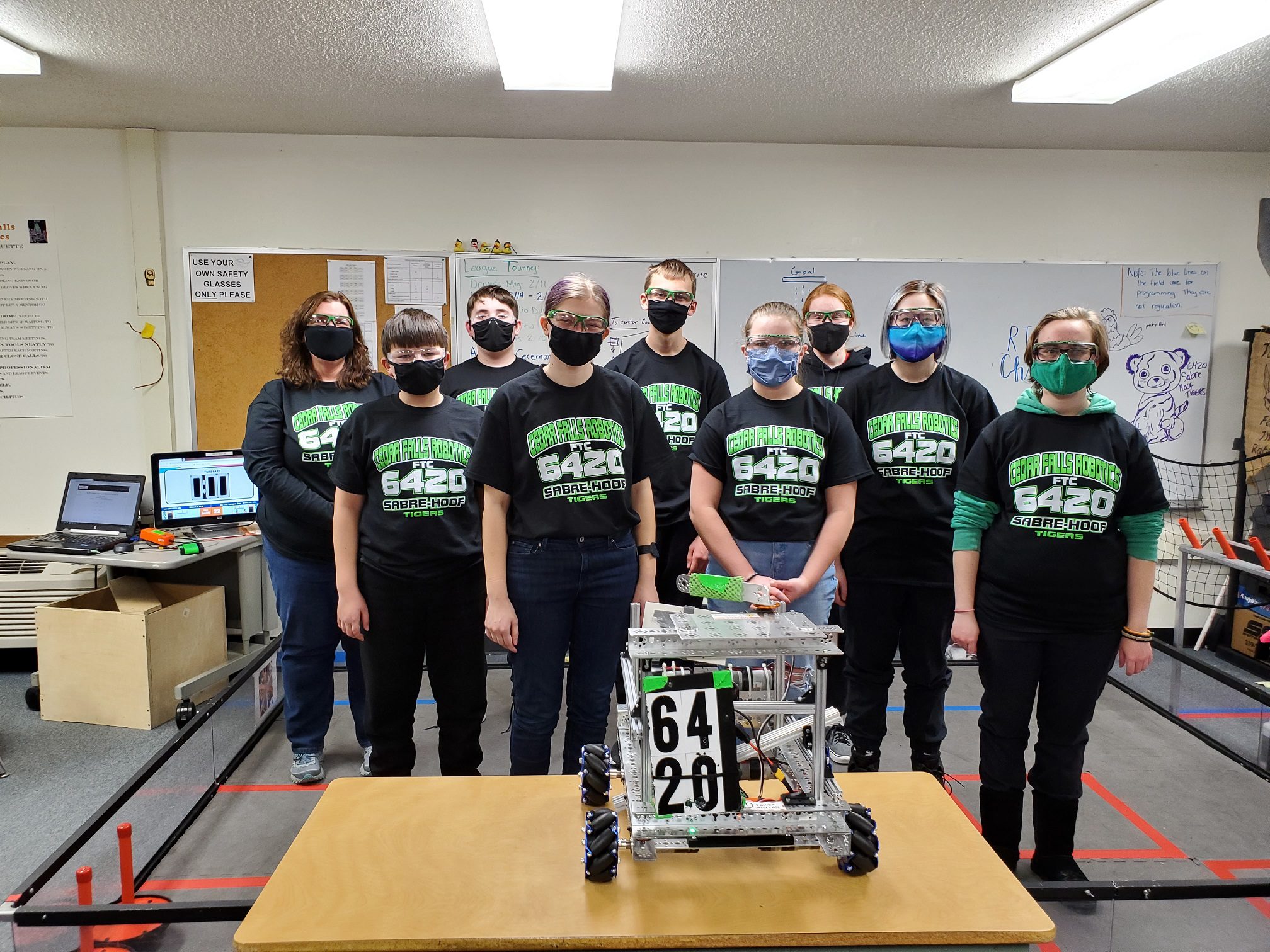 In Part 1, we discussed the challenges of virtual collaboration and fundraising for the past season of FIRST robotics. In this Part 2, lets discuss the challenges of competition and community outreach.
Participating in competitions themselves has been very different. The main draw of robotics for students each season is to compete, of course. Our competitions are always a fun and exciting time. The energy is infectious. It's where all our hard work pays off. Depending on the type of competition, anywhere from 15 – 60 teams compete. We always meet lots of new people and see old friends. At the event, each team sets up a "pit" area where they can update programing and work on their robots, as well as display information and mementos about their teams. A highlight for students is visiting all the different pits talking to other students about their designs. It is so much fun to see all the different robot designs teams come up with to complete the same tasks. For many teams, seeing the other robots can be very inspirational. It also gives teams something to aspire to. If we see robots that perform better than ours does, we always look to find ways to make ours better. There are many team members, friends, family and other spectators sitting in the stands cheering the drive teams on, much like you'd see at any sporting event, including many exciting buzzer beater moments to crown a winner. I always joke that it's a cross between Nascar meets Comicon. The energy and emotions are high with robots always moving. Teams take their branding seriously with colors, lights, mascots and other costumes. It is truly a sight to see.
Overall, I would say not having normal competitions was the biggest thing we missed this past year. In FTC, each team competed remotely, meaning they competed by themselves in their build space. We were not allowed to meet other teams or see other designs. The only people present were the team members and mentors. We did not have space to even allow additional spectators. We would run a match and submit our final score. We all really missed the excitement, connections, and inspiration from the other robotics teams. We were given a chance to have virtual chats with other teams, but again, engaging kids online to do this was a challenge. It was hard to get excited about pictures of robots on the screen.
The FRC program also had its challenges. The competition season for this group starts in January. In 2020 our season was cut short in March when everything shut down. After this, the team did meet in person for several months. Luckily, we were able to meet virtually each week. However, we ran into student engagement challenges. Since we could not compete normally, FIRST put together a couple of unique 'At Home Challenges' for this group of teams to compete in this season. One, the Innovation Challenge, encouraged teams to design a solution to help people keep, regain, or achieve optimum physical and/or mental health through active play. We had a small group of students who came up with an idea to include interactive cards to distribute to food insecure older elementary kids by partnering with the Food Bank's Back Pack program. The students designed, tested and created a business pitch to present to the judges during an online judging session. Another 'At Home Challenge' available was a Game Design Challenge. We had a group of 3 students who designed a robotics game. The third 'At Home Challenge' consisted of using last year's robot to complete a series of tasks. They were timed on accuracy and maneuverability. While we could not compete as normal, we were grateful that we did have areas to focus on.
The judging process for all programs was very different this year. Teams were put into groups of about 30 teams. Since all judging was done virtually, teams from many different geographical areas were placed in the same group. Our judge groups included teams from all over the world. The students presented their 'At Home Challenge' results to the judges. In addition to helping my teams prepare for their own judging sessions, I was privileged to judge a different group of 31 teams in the Game Design Challenge. It was amazing to see the hard work and imagination that teams were able to put into their game concepts. I was able to talk to teams from Europe, as well as the United States.
Finally, one of the biggest areas that was affected by COVID this past year, and one we really missed participating in, was our community outreach. All our Cedar Falls robotics teams strive to reach out to the community to show off our team and our robot and to spread the FIRST ethos of Gracious Professionalism. We want everyone to compete at their best and will help other teams overcome difficulties to do so. We are passionate about STEM fields and participate in various STEM festivals to share the advantages of participating in a robotics program. We help out our community with different community service events, like helping the food bank. We believe in our program and we want to help other schools start and sustain their own programs. As the pandemic winds down and we are able to do more with more people, we will again be out in the community.
Even though we were not able to design, build, compete and practice outreach as we had in the past, I am very grateful that we did have a robotics season. Yes, there were challenges, but I feel we did learn some very useful skills. We have learned many new ways to communicate and collaborate, as well as learning to be more flexible this year. I think in the future this will help our teams, making us more versatile. However, I still can't wait for the fun and excitement of a good old competition!