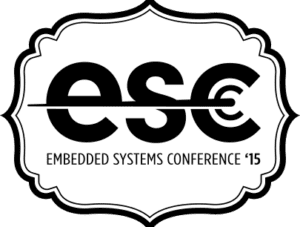 This year the Embedded Systems Conference (ESC) was held in Boston, Silicon Valley and will be held in Minneapolis later this year. The Embedded Systems Conference started 27 years ago. Back then the conference was held in just one location as a gathering of technically minded people who had interests in embedded systems. During this networking event, different technology companies would display their latest and greatest products that could be used by embedded system engineers. With more advances in microprocessor power and smaller microprocessor designs, conference topics were presented on various applications in which the processors could be used.
The conference that I attended was the one held at the Santa Clara Marriott Convention Center in Santa Clara, California. There were a few conference rooms dedicated to various topics about embedded systems, along with a larger demonstration room for various exhibits. Among these exhibits were microprocessor manufactures, test equipment suppliers, and some hardware interfacing test systems. One of the more popular exhibits was different aspects of securing digital communication; this ranged from securing information sent to an Internet of Things (IoT) device to a point of sale device. There were other companies that sell products to help improve code quality by tracking code reviews.
Some of the conference topics were also very interesting to anyone working in the field of embedded systems. A hot topic that has surfaced in the last few years was the IoT and recently the Web of Things (WoT). Both of these topics deal with connecting various sensors to point of sale devices up to the internet. With that in mind, there were a few topics going through how to rapidly proto type devices and get them marked for feedback on the design; along with how to securely connect these devices to the internet and reduce the chances of a security breach.
Overall, the information provided was very beneficial and I learned a lot of new things, especially with respect to the IoT and WoT. There were a lot of other topics related to creating and maintaining embedded systems through the use of different design patterns and how to effectively hold a software code review. For anyone who would like to learn more about embedded systems and their endless possibilities, I would highly recommend them attending the conference in Minneapolis, Minnesota November 4th-5th.