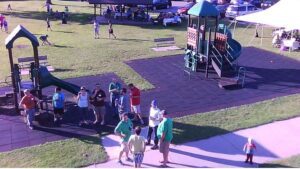 We hosted our annual summer event at George Wyth State Park in Waterloo, Iowa this year. The family friendly picnic took place in the early evening hours of Friday, July 17th. DISTek employees, spouses, and their families were invited to come together for food, fun, and camaraderie. Even though it was a hot July day and temperatures hovered in the upper nineties, around one hundred and twenty folks gathered to enjoy the evening. A picnic feast, catered by the delicious Randall's in Hudson, IA, consisting of the summertime favorites, BBQ sandwiches and all the accompanying sides, was served. After dinner, participants had the opportunity to join in on some yard games, which consisted of bean bag toss, volleyball, and whiffle ball, while the children took advantage of the near-by playground equipment. In order to beat the heat, others opted to park their lawn chairs in the shade and take advantage of the laid back atmosphere to partake in some team building.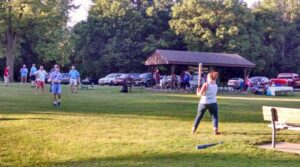 While the picnic concluded when the sun went down, that didn't mean the fun stopped there. The next day, all were invited to show up bright and early at Birdsall Park in Cedar Falls, Iowa for another family friendly event. Around twenty-five participants arrived and were greeted with a breakfast spread, with the highlight being hot breakfast pizza. The fun, literally, kicked off a little after 9am for DISTek's first ever kick-ball showdown. Teams were roughly divided into Embedded Software Developers versus Automation & Test Developers for some friendly competition. After one marathon length game, that lasted two plus hours, the event ended in a tie. Participants are already calling for a re-match, so plans are in the works to schedule a fall event.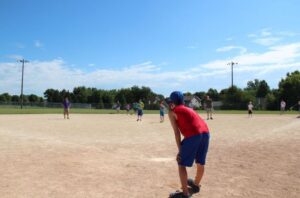 As an added bonus, during both of these events DISTekians were encouraged to take photos that would later be submitted for a photo contest. The top three winners of the contest were awarded cash prizes!