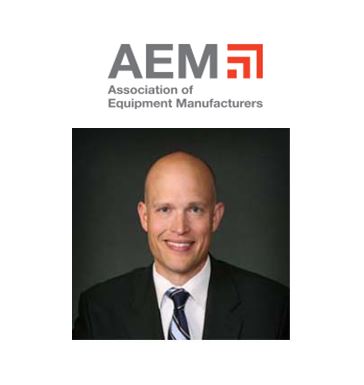 Last month, the Association of Equipment Manufacturers (AEM) announced their newly elected board members. Among them was our very own Executive VP and COO, Jeremy Yoder. Jeremy will serve on the AEM AG Sector Board.
Recently, I took some time to sit down with Jeremy to talk about this exciting new venture.
[Ashley Hirsch] Congratulations on your recent election to the AEM AG Sector Board! Can you tell me a little more about this position and what your responsibilities will be?
[Jeremy Yoder] It was definitely an honor to be nominated and elected to the AG Sector Board. The Association of Equipment Manufacturers (AEM) represents off-road equipment manufacturers and suppliers in the agriculture and construction equipment sectors. I will be serving with other AG sector board members to help move the industry forward by developing strategies around technological, political, and economic opportunities and challenges facing agriculture.
[AH] How long will you be serving on the board?
[JY] It's a two year term.
[AH] Who else makes up the board?
[JY] The board is made up of executives that represent a variety of AEM member companies. I can already say that it's a friendly bunch that has done a great job of making me feel welcome and included.
[AH] How does your direct involvement on the AEM board relate to DISTek?
[JY] As an engineering services company, DISTek is very focused on our client's future technology needs. A large percentage of our customers are tied to the off-highway equipment sector, where vehicles and equipment are being developed to meet the worlds growing needs for food, power, and infrastructure. Helping advocate for this sector is just another way that I, as well as DISTek, can serve this great industry and contribute to advancing technology.
[AH] What are you most excited about regarding being involved as an AEM board member?
[JY] I grew up in rural Iowa working on our family farm. I feel so fortunate to have had the opportunity to grow up with that experience; it's one I wish more kids from today's generations could share. I can still vividly remember the exhilaration of driving a tractor in the field for the first time (it was a John Deere 2020 pulling a Badger manure spreader). So, it gets me excited, and gives me great satisfaction knowing that I'm involved in helping promote and advocate for this industry and the next generation of technology and equipment which helps keep farmers safe, makes them more productive, and adds efficiency that reduces waste and allows them to be better stewards of the land.
[AH] I understand that you recently went to Washington DC to make your debut on the board. Can you tell me more about that experience?
[JY] Being new to the board, my time in DC was focused on getting up to speed on current priorities and meeting the other board members and AEM staff. With the meetings being held in DC, there were groups of AEM delegates that made visits to Capitol Hill to advocate for the industry on issues around infrastructure, trade, tax, and agriculture. One group of AEM officers and staff met with Vice President Mike Pence that week, and another group met with Sen. Joni Ernst (Iowa) who during the meeting hosted a call with President Donald Trump.
[AH] On behalf of all of us here at DISTek, congratulations again on your nomination and selection to the AEM AG Sector Board. This is an exciting opportunity for both you and DISTek and we believe that you will add great value and insight to this team.