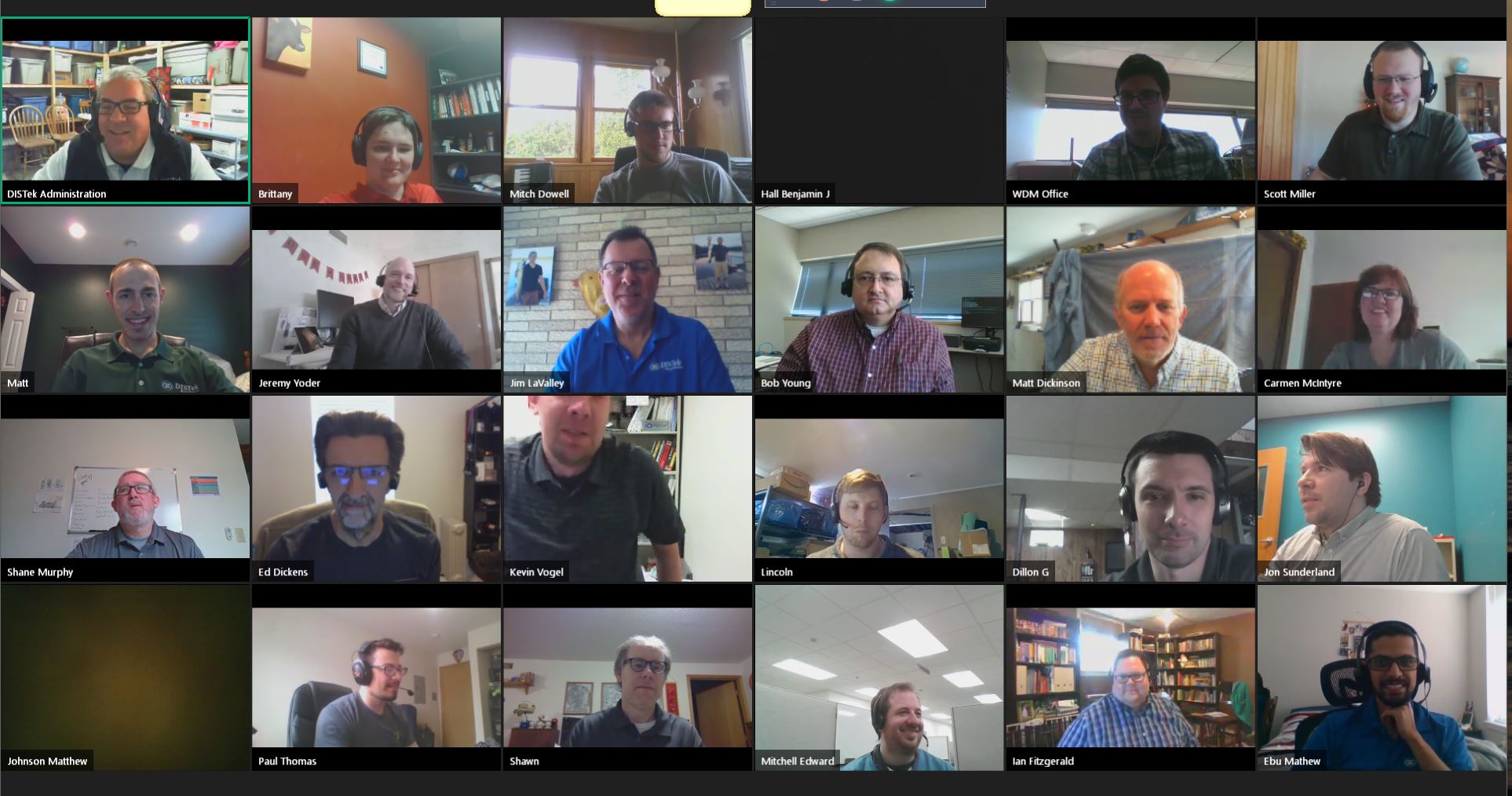 I titled this blog post 'Staying the Course' because that is exactly what we have been doing here at DISTek, now in our 5th week of aggressive novel coronavirus response mode. I liken our current environment similar to navigating a fully loaded canoe through high winds – keep the bow pointed toward the destination, anticipate making corrective maneuvers as much as possible, and react quickly and decisively, yet calmly, to sudden shifts in direction and current.
Like many in the US, I first started talking seriously about COVID-19 in the first days of March. I had a routine visit with my doctor and was greeted with a new series of questions surrounding where I had traveled recently. The look on the receptionist's face when I replied "Yes" to her question around international travel was quite surprising – almost alarming. (The Dominican Republic is considered international travel, isn't it?)
During that first week of March, I attended my first (of many, now!) webinars on this virus, and was introduced to terms like social distancing, flatten the curve, and self-isolate – words that in just a single month's time have become as common place as 'piece of cake,' 'break a leg,' and 'hit the hay'. (My apologies to those born after 1995; how about 'Bruh,' 'FOMO,' and 'hangry'?) Days later, we published our first (of many, now!) communications to the DISTek team regarding this topic and have evolved, as I presume everyone has, into a different, strange, and probably at least slightly uncomfortable state of being.
We are staying the course. By mid-March, nearly half of our team had transitioned to working from home. Now, just over 4 weeks later, that number is nearly everyone. Transitioning to a remote workforce went very quickly, and surprisingly, seemed to be more of a challenge for more traditionalists like myself than most of the rest of the DISTek team. That is probably a testament to the adaptability, flexibility, and resiliency of all of our DISTek employee owners.
As a company, we have been quite geographically diverse almost since our humble beginnings (arguably, that is easier to accomplish when the employee roster is just one person deep!). Yet, DISTek has had a history of being, and going, where the customer needs us. From North Carolina and Georgia to North Dakota and Wisconsin, not to mention the multitude of cities in Iowa and many locations in the Midwest where we are either currently located or have spent considerable time in. Before COVID-19 was even a thing, we had employee owners located in many different locations, delivering a seamless, efficient, and quality level of service. Working remotely, working from home, working from our office or your location – staying the course. We have done this for over 20 years and we do not intend to stray off course now.
Maintaining, managing, and supporting a widely dispersed workforce certainly is not easy, and adds technology and security challenges that are arguably easier to administer in a common workspace. Add to that the engagement and social aspect of a dispersed workforce and it can seem daunting. On the other hand, many benefits related to productivity, work-life balance, and family time – if for no other reason than greatly reduced commute times – have proven to be helpful, both for the employee and for the employer. The trick is to stay the course, to remain focused and clear on the direction, the path, and the objectives we are striving to achieve. That rings true whether we are talking about our work or career, or whether we are talking about doing our part to help control the spread of this, or any, virus.
Stay the course. Wash your hands. Stay safe.