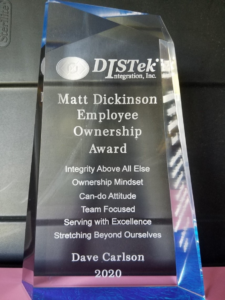 Business owners across the globe have certainly had their challenges this year – a pandemic, economic turmoil, civil unrest, and let us not forget the regular dose of weather related challenges Mother Nature seems fit to throw our way – hurricanes, derechos, hail, floods. With all that is going on, it is tough enough being an employee, much less an owner. Yet at DISTek, employees ARE owners!
DISTek is well into its 2nd year of being a 100% employee owned company through our Employee Stock Ownership Plan (ESOP). The transition in 2019 included celebrating the retirement of our founder and recognizing both the gift of ownership he granted to all of us employees as well as honoring his legacy of ownership. DISTek's history is rooted in its values – integrity, team, service.
It seemed only natural that the Matt Dickinson Employee Ownership Award evolved as a way to annually recognize, and reward, one of our employee owners who exemplifies the DISTek core values and truly lives The DISTek Way: Integrity Above All Else, Ownership Mindset, Can-Do-Attitude, Team Focused, Serving with Excellence, and Stretching Beyond Ourselves. DISTek employee owners nominate and select a recipient of this award and in 2020, we are extremely proud to present Dave Carlson, an employee owner since 2015, with this distinguished award.
Four different DISTek employee owners who used words like accountable, engaged, dedication, and passion to describe his merits for this award nominated Dave. Dave's commitment to his team members, his clients, and his involvement within his local community were highlighted as examples of how he mirrors our founder's way of life and gives back to both his fellow co-workers and the community in which he lives and works. It is no surprise that Dave chose the Fargo-Moorhead STEM Alliance as the organization in which DISTek would make a donation on behalf of Dave. Not only supporting the local youth of today, but also looking out for his company's interests in the years to come. Congratulations Dave! Well-deserved and we could not be more proud!
Ownership does have its perks, although as the example set by Dave highlights, those perks don't come without effort. Nor are ownership benefits necessarily achieved in the short term. Being an employee owner in an ESOP organization does give employee owners the opportunity to have a direct impact on the success of our company. In an answer to the question, "What does being an employee owner mean to me?" Ashley Hirsch, a DISTek employee owner since 2008, said it best when she replied; "Being an employee owner means being a part of something larger. I go to work, not only to earn a paycheck, but also to actually make a difference in the future of DISTek. I have a voice – my opinions and feedback are valued and sought out. It means truly being part of a team and going above and beyond every once in a while for the greater good – it's one for all and all for one."
July of 2020 was a celebratory month for DISTek. Not only did we award Dave with the 2020 Matt Dickinson Employee Ownership Award, but we also revealed a decent ESOP share price increase for 2019 – a definite perk of ownership. The future of DISTek remains exciting and strong, yet certainly requires continued focus and energy from all DISTek employee owners. So while we celebrate this success and applaud Dave for his achievement, we should also continue to put in the effort needed to deal with the challenges of 2020 and beyond. Remember, at DISTek, you don't just work here, you're an owner.