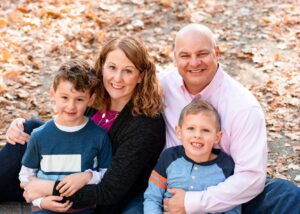 The year 2020 has changed how work is done on a daily basis.  In August, I was a stay-at-home mom of 2 boys, Christian (8) and Michael (6).  I had just accepted a position at DISTek and was trying to navigate the very murky waters of transitioning to a full time employee and a mother.  It was overwhelming to say the least.  If you recall August 2020, no one could positively say if school was in person, hybrid, all virtual or even if the kids would go to school and be sent home a week later to do virtual school due to the pandemic!
September starts…the kids go to school and on September 8th, I restarted my engineering career after 7 years of being a stay-at-home mom.  After the initial week of being at the Cedar Falls DISTek office, I transitioned to my guest room and home office.  We assembled a desk, hooked up the monitors and it was off to the races!  Working from home has its perks for sure.  I am able to get up, prepare breakfast for the boys, and do a little work until it's time to walk them to the bus stop!  Then, right back in the swing of things until 4pm when the noise level goes back up.  Most days, we are lucky enough to have help from a local University of Northern Iowa student, named Sidney, who the boys adore.
There are things that I miss because I work from home.  Obviously, in person interactions for one, but I have found that you can still forge strong relations from opposing monitors on a Skype call!  I feel less distracted and love having my 3-year old Labrador lay on my feet – especially during the cold Iowa winters!  I am able to eat lunch a couple days a week with my husband, Michael, who currently works in the room next door.  I enjoy the bottomless coffee that isn't breaking the bank and the healthy lunches I'm able to prepare in my own kitchen.
I am not sure that either my boys or I would have transitioned as seamlessly as we did without the option to work from home that the pandemic required, and DISTek supports.  I feel very lucky to have this opportunity and I know they are proud of their mom!