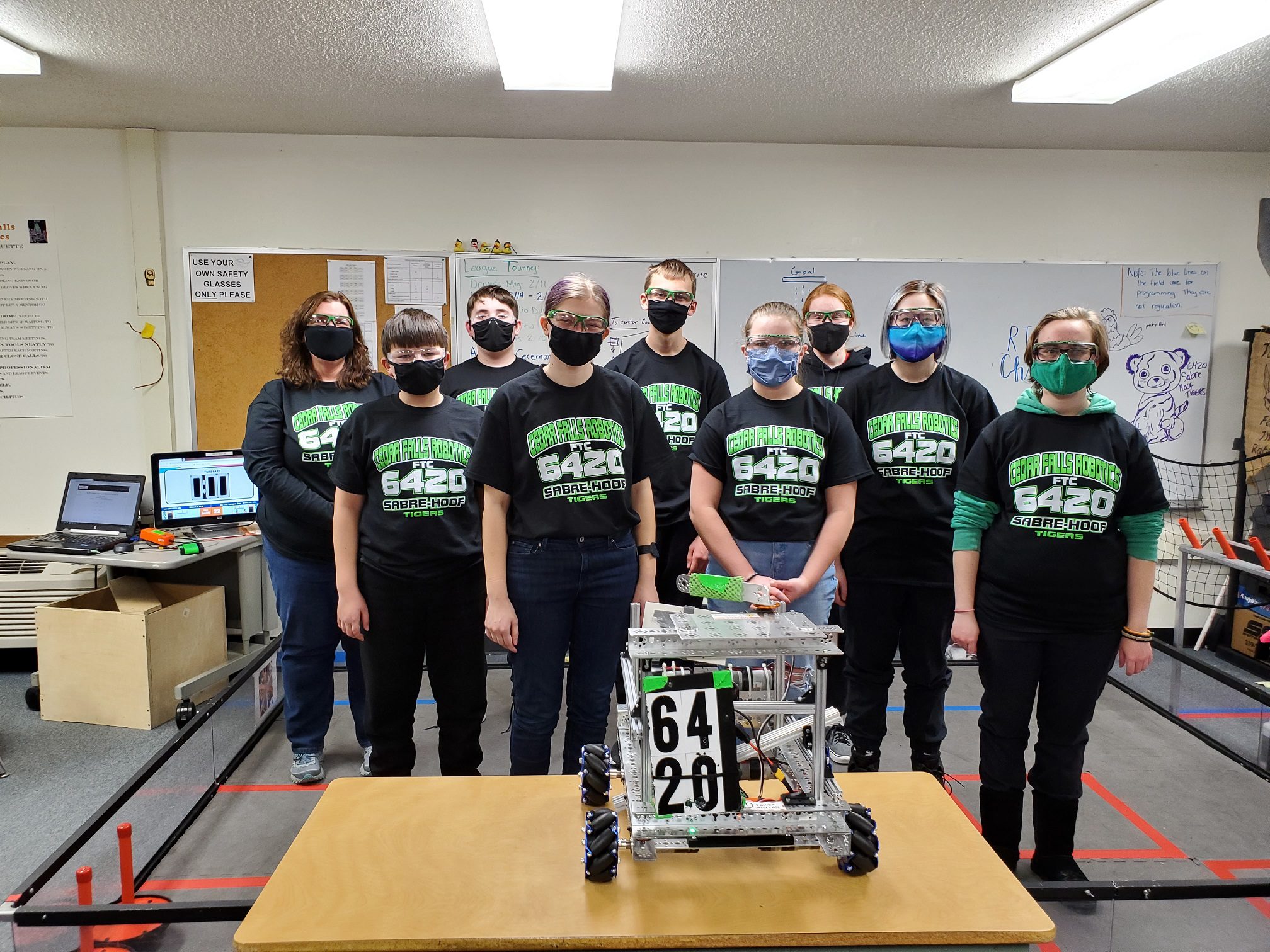 Most people who know me know I have a passion for FIRST Robotics. During the school year, much of my free time is spent volunteering in one way or another, from planning to coaching to mentoring to judging and beyond. I spend a good portion of my vacation hours traveling to competitions in places such as Missouri, Minnesota, North Dakota, and Michigan. I feel that the values and skills young people learn as a part of these programs are invaluable and lessons that they will carry with them through high school, college and life beyond. I am so honored to be a part of this program.
Over the past year or so, many of our normal everyday activities have looked very different and FIRST Robotics is no exception. After the 2020 season was halted, and then cancelled, we all hoped that we would be able to return to designing, building and competing as normal for the next season. Unfortunately, that did not happen. Luckily, however, we were still able to participate in robotics, just in a different way.
FIRST has 4 different programs ranging from pre-K to 12th grade. I have been a coach/mentor for two of those programs for Cedar Falls Schools: FIRST Tech Challenge (FTC) for grades 7-12 and FIRST Robotics Competition (FRC) for grades 9-12. I oversee the administration of all 6 FTC teams at Cedar Falls and actively coach one FTC team, Team 6420, the Sabre-Hoof Tigers. I am also a mentor for FRC Team 525, the Swartdogs. I know these team names may seem strange, but they were chosen to honor the teachers who started the FIRST programs at Cedar Falls Schools.
The FTC program for 2020 did start in September, as usual. However, there were some challenges right away. Due to social distancing and other safety protocols, including 6 teams sharing a portable classroom space for our build space, we knew we wouldn't be able to have the normal 13- 15 students we usually have per team. We did not actively recruit more team members, which is one of the main pillars of our sustainability plan. This left each team with about half of the normal number of students. In addition to this, some of our long-time mentors were not able to return to our teams this year. Their experience and expertise were greatly missed. In some cases, it made it harder for us to find the required number of mentors needed to hold meetings.
Our actual team meetings also changed. Many meetings were held via Zoom, especially the planning and designing meetings. Along with this, meeting schedules were rearranged so there was a gap between starting and ending times so no two teams were in the build space at the same time. We also spread the tables out to practice social distancing and only 2 students could work on a particular portion of the robot together. The separation and the lower number of students left us fewer students to design and build a robot. This made completing a robot and our other regular tasks more difficult.
At times, we were not allowed to meet in person. This was a huge challenge because we could not physically build the robot virtually. We could discuss design and what we wanted to do, but the actual build and test had to wait until we could meet in person. Programming was a challenge in two ways. First, the platform used to program is connected to the robot, so the programmers need to be near the robot. Second, without the robot, we couldn't test the code that was written. When we were able to meet, time with the robot was precious. Both programming and mechanical groups needed time with the robot. Meeting virtually presented challenges as well and was difficult. The kids did not appear to be as engaged in the virtual meetings and it was very hard to get many of them to speak, let alone to open-up and share ideas.
One aspect of being on a FIRST team is learning the business side the group. We need to raise money for robot parts and trips, as well as put plans in place to continue next year and beyond. The students take an active role in this business side. We were able to guide students through this process, but fundraising was much more difficult this year. Normally, we are very lucky that many of our grants we earn are renewable each year. However, this year, several were not available to us. We are very grateful for the ones we were able to secure, like the donation from DISTek. Our usual fundraising activities, like selling concessions during events was not an available option. The pandemic made it impossible for our students to visit businesses in person to form sponsorships and request donations.
Unfortunately, the challenges didn't end there. Stay tuned for Part 2 where the challenges and differences in robotics competitions and community outreach due to the global COVID-19 pandemic will be discussed.