As we all gear up to start the new year with our best foot forward, let's take a look at all the fun festivities DISTekians were able to enjoy over the holiday season. DISTek had the privilege of hosting several holiday parties, some in person and some virtual, as well as several events where DISTek was able to give back to the community.
This year, DISTek hosted a company-wide murder mystery virtual event, where several teams of DISTekians were able to try their hand at some investigative work. It was hosted by a third-party virtual event coordinator who presented the investigative teams with some compelling clues and evidence to help solve the tragic murder of an up-and-coming actress. To add to the competitive good nature of the event, all those teams were competing for gift card prizes. It was a great way to build relationships while engaging in some friendly competition, and I am happy to share that we did indeed find out "who done it," solving the murder and ensuring the killer was brought to justice. Many thanks to all those who participated!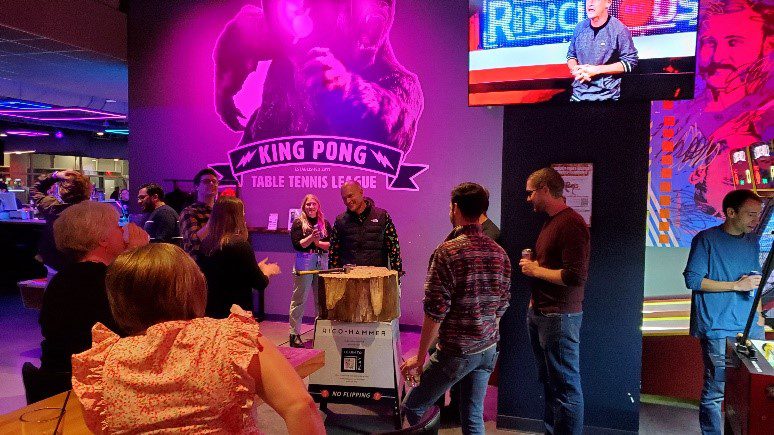 Our Des Moines location was able to host a fun and festive holiday party at Ricochet, a local venue in downtown Des Moines that offered a cordoned off space where DISTekians could try their hand at all sorts of games such as pool, ski ball, darts, and rico-hammer (aka Hammerschlagen). Catering was brought in through a local favorite, Fong's Pizza, which provided a wide array of unconventional pizzas to choose from, as well as some standby favorites.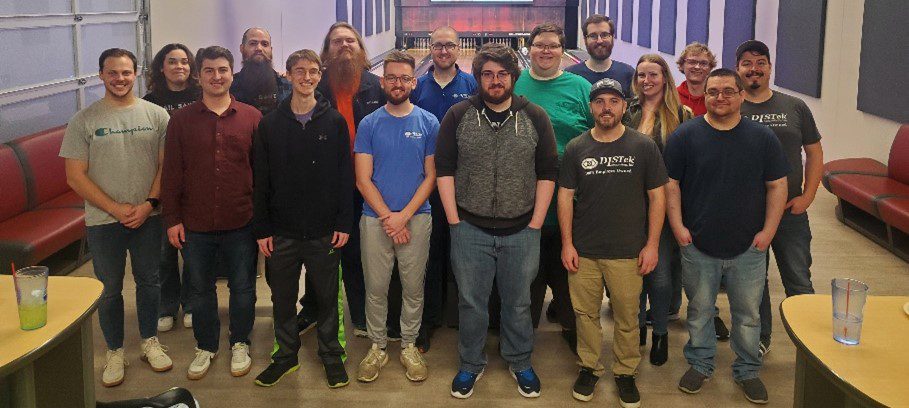 Our Dubuque DISTekians were able to get together to show off their bowling skills at Round 2 in Peosta, Iowa. The team got to enjoy a few games of bowling, some good conversation, and some delicious pizza. While bowling skills and general competitiveness varied widely, everyone seemed to have a great time celebrating together. Special thanks to those that helped coordinate the logistics of this celebration.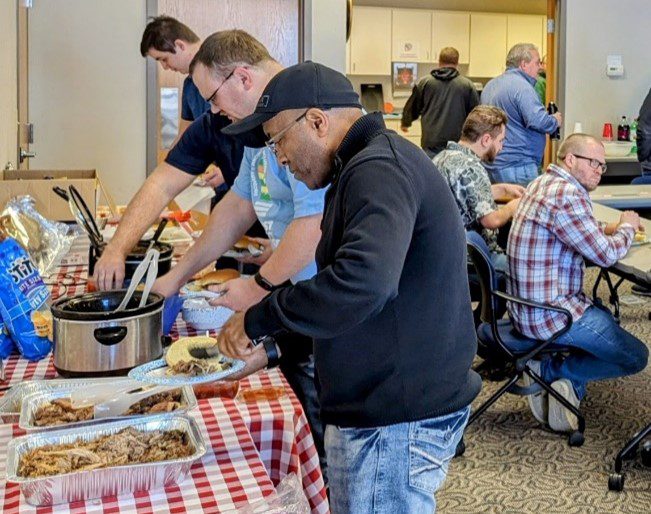 DISTek Cedar Falls hosted a delicious display of potluckery in the Sutterer Learning Center, where many of our Cedar Falls/Waterloo locals were able to come together and celebrate a year well done. There is nothing like enjoying some delicious food, basking in the orange glow of a YouTube fireplace and sparkling YouTube holiday lights with friends all around to put you in the holiday spirit.

Lastly, DISTek was able to pull together to help some families in need this holiday season by sponsoring them in the Adopt-a-Family program. This is just one more way that DISTek is able to serve our community. Special thanks to all those that volunteered to support this wrapping event and to all those who selected or purchased gifts. This surely made a big difference in the lives of these families this holiday season.
At DISTek, we like to work hard, but we also like to intentionally take the time to celebrate our accomplishments and successes. It's important to gather together and acknowledge our hard work, dedication, and commitment to not only our project work, but to each other. I am thankful that we could take some time to do just that this holiday season.