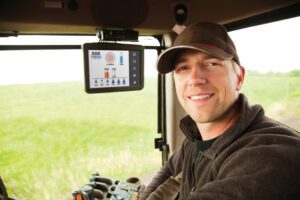 In this final installment of the ISOBUS Task Controller (TC) series, I will cover a few other features of TC that are relatively new. A Data Logger (DL) is a special type of TC that only logs data. This type of device is generally considered to be more limited in capability and may not even have a typical user interface. One example would be a black-box scenario where the DL stays connected and logs data independent of any user interaction. The DL can be used in parallel to a more typical TC that may be doing section control or rate control. From the perspective of the Working Set, little is different between communicating with a full-fledged TC versus a DL. The DL capability is given a specific AEF Functionality to be used for marketing and compatibility purposes.
Another new feature is called Peer Control. In the Peer Control scenario, one Control Function (CF) has listens to commands from the TC and then passes set-point information to a second CF. I think the best example of this scenario relates to section control and blockage sensors. When the TC commands a section to shut off in Manufacturer A's CF, Manufacturer B's blockage sensor CF does not know it should avoid tripping an alarm. If Manufacturer A instead uses Peer Control to communicate with Manufacturer B, then Manufacturer B's CF knows when it should and should not be checking for blockage. Other scenarios for Peer Control include on-the-fly sensor systems that cause various set-points to be determined both by the TC Geo-positioning of device elements, and by the sensor readings of the implement.
That wraps up most everything about ISOBUS Task Controller at a broad level. It definitely has its fingers in a lot of today's marketing buzz words like Big Data and Automation. Using Task Controller is one of the primary means by which a farmer can plan much of his operation in the office rather than in the seat of the tractor cab. To review Part 4, click here.