DISTek recently attended the National Farm Machinery Show in Louisville, KY and will be on display at the upcoming Commodity Classic, March 3rd -5th, in New Orleans, Louisiana.
On the long contemplative drive to Louisville last week, our Director of Business Strategy pointed out something that I feel needs mentioning. Between the two shows, DISTek will have a total of 12 ISOBUS products, or ISOBUS related products, featured by our clients in their exhibit booths. (For those of you not familiar with ISOBUS, it is a communication protocol designed to allow vehicles and implements from different agricultural manufacturers to communicate information back and forth with each other.) Not only this, but we will have software on many other machines, and test systems displayed as well; however, most will not be outwardly identifiable as being DISTek's work.
I mention this because 99.9999 percent of people looking at the equipment will have no idea that the technology behind making the machines more productive, efficient, safe, Eco-friendly and responsive is being written by a small group of engineers at an employee-owned company.
If you attended the show in Louisville, pictured below is one of DISTek's software solutions that you may have seen.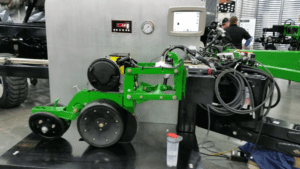 At the National Farm Machinery Show, the Dawn Equipment booth was displaying an ISOBUS version of their Rfx Down-Pressure system. DISTek used its VIRTEC ISOBUS stack with an ECU from STW to design a gateway between the proprietary Rfx CAN bus and the ISOBUS. DISTek engineers developed the GUI screens – called the object pool in ISOBUS terminology – and the logic to translate between ISOBUS messages and the Rfx system. DISTek has used the ISOBUS Translator approach before with good success, allowing implements that already have a CAN system to add ISOBUS capabilities without substantial rework of the existing system.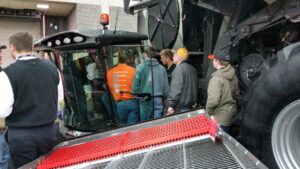 Pictured above is another example of DISTek's engineering capabilities. This cab display simulator features hardware and software designed by DISTek, which allows potential buyers to "run" the combine virtually to get a feel for the new display and its potential performance in the field. Our system was built to be rugged and portable to run indoors or out doors at farm shows throughout the year in many different climates. This display will be available to see at the Commodity Classic.
DISTek will also be hosting our own booth at the upcoming Commodity Classic. Stop by to check out our take on an iOS interface that allows users to communicate wirelessly with an implement.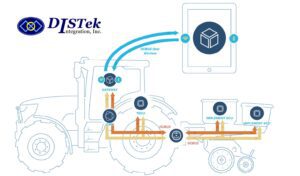 The app interacts with an embedded controller over an ISOBUS connection, but it utilizes the same commands that an ISOBUS VT would. Therefore, the controller can be built to support a VT, and the app can be easily built with our mobile library to replicate or improve on that interface. An app can even be built for existing ISOBUS controllers without needing to change the controller firmware at all!
We'll be showing off the difference between our app and a standard VT interface at booth 3658. Hope to see you there!