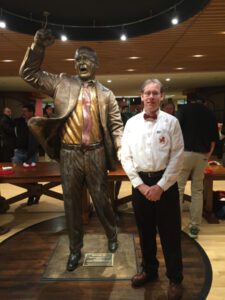 As can be seen from some of my previous blog posts, I really enjoy promoting engineering and getting youth interested in pursuing STEM (Science, Technology, Engineering, Math) careers. The culmination of promoting engineering is recruiting. On February 9th, I was part of the DISTek team that recruited at the Iowa State Engineering Career Fair. Given I am an Iowa State alumnus, I especially look forward to this event because I get to go back to Ames (Cyclone Country) and talk with engineering students, a combination of a few of my passions.
I have been amazed at how the ISU Engineering Career Fair has changed over time. I remember when I was a student at Iowa State and attended the engineering career fair myself. It was held in the Great Hall of the Memorial Union. Today, it is held in Hilton Coliseum and Scheman Building. Just during my time recruiting at the career fair as part of DISTek, the career fair has grown quite a bit.
Another realization on how much things have changed over time happened when a student looking for an internship asked what class I felt prepared me most for the work I do today. While thinking back about the classes I took, I was reminded how courses have changed. Through interviewing recent grads of Iowa State, I have learned about the courses of today and have thought how cool it would be to take that course. Technology truly changes quickly and the courses have changed to keep up. On the flip side, another student surprised me by stating that FORTRAN is still taught in an engineering course today.
We talked with some very talented students who were looking for summer internships or full time positions upon graduation. Before the ISU career fair, our HR manager reached out to some student organizations – the Critical Tinkers, the Sales Engineering Club, and the Baja Team. After talking with students from those organizations, I can easily see how the students benefit from being members, while also benefiting others through the organization. They have learned that engineering is more than just solving problems in the classroom, but also communicating and applying their knowledge through hands on projects outside the classroom. I was very impressed.
To wrap up our day, the recruiters were able to enjoy some hors d'oeuvres and beverages while having some good conversation at Johnny's inside Hilton. However; before we left, a tradition was allowed to continue. Ever since the Johnny Orr statue was unveiled, our HR manager gets a picture of me and Johnny each year I attend the career fair. It is always good to catch some of that Hilton Magic that Johnny started. I hope to see some of the students I met that day working at DISTek someday soon.