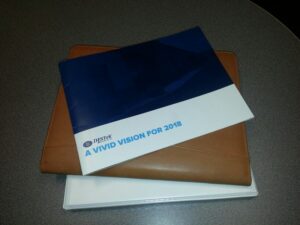 Around eight years ago, my wife, Staci, and I decided it was time to ditch our tube TV in favor of a flat screen mounted above our living room fireplace. Part of the plan was for me to add some trim above the fireplace to hide the cords and add some built-in cabinetry to store set top boxes, game consoles, and speakers. What Staci did next ended up being a brilliant move on her part. She handed me a printout and said, "I want the cabinets to look just like this photo." The picture was a low resolution photo she printed out from a home decorating web site featuring a living room with a fireplace surrounded by floor-to-ceiling and wall-to-wall built-in cabinets and shelves. This was definitely a different picture with a much larger scope than what I had in my mind. What made it brilliant was that the picture got us working in the same direction with a unified goal.
Using that photo, I went to work putting some more detailed plans in place. This included drawings for each of the built-in sections, measurements, and material lists for the needed lumber, fasteners, and supplies. I will admit that this project put my carpentry skills to the test, and what was planned as a six week project ended up closer to six months. However, Staci ended up thrilled with how things turned out and we were both amazed at just how closely the finished result resembled that now very worn picture she handed me at the beginning of the project. The picture became a reality!
In Cameron Herald's book Double Double, he writes about how important a shared vision is to top performing business organizations:
"Everyone in your organization must focus on the same painted picture, and that painted picture must be in sharp focus. If you and your employees are not all seeing the exact same vision of what your company will look and feel like three years hence, there is no chance it will ever happen the way you see it in your mind today."
At DISTek, we just went through the vision setting process. We leaned out into the future to paint a picture of what DISTek will look, feel, and perform like three years into the future. The resulting vision highlights what DISTek's employees, culture, customers, expertise, offices, and growth will look like on December 31st, 2018. Our Vivid Vision includes over 60 items. Examples include:
Now that we have our picture of the future in place, we are excited to roll up our sleeves and get to work. Action plans, teams, and budget proposals are being drawn up for each of the individual vision items. Working together as a unified DISTek Team we are excited to make our vision a reality.
When December 31st, 2018 rolls around, we, as a company, want to go back and be amazed just how closely the finished result matched the picture we painted in 2015.