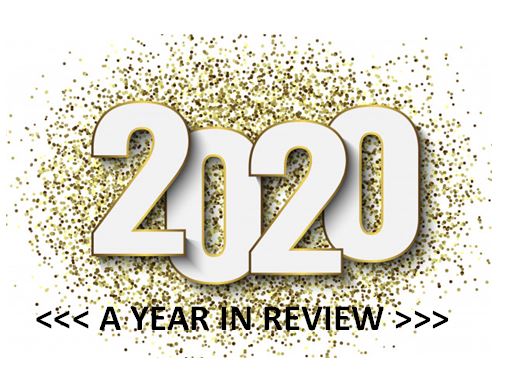 I just scrolled through old blog posts and realized I have been writing a Year in Review post since at least 2014.  If I did not know better, I might think I was being typecast for this role.  Either way, if 2020 is the last time I do a Year in Review, then it certainly is one that provided a lot of differences to highlight.
Obviously, the headliner for 2020 was COVID-19 and its impact across so many different parts of our lives.  First and foremost, we have been fortunate at DISTek to have not felt the severity of hospitalizations and deaths that so many hundreds of thousands of Americans have experienced.  And we are also fortunate that so much of our work can be done from home.  Our employee-owners have demonstrated great resilience in working through all the disruptions to keep solving our clients' problems, whether that is from the kitchen table or in a sparse client facility.  Our end markets also rebounded quickly from the early reductions in business to have pretty good years overall, and that led to DISTek having a good year, too, with only small disruptions to ongoing business.  We were able to grow several key clients and start a few new ones – the list of technology projects in the off-highway equipment industry is long!
For me personally, 2020 was a different experience than recent years.  I went to CES in Las Vegas in January, to the AETC in Louisville in February, and back to Las Vegas for CONEXPO in March and then … nada.  From mid-March through the rest of the year, I did not leave Wisconsin except for a few hours to a Lowe's in northern Illinois.  By far that is the least I have traveled in a very long time; previously the last year I had not visited Europe was 2008. I probably spent 50 nights on work road trips in 2019, and less than 10 nights on the road in 2020.  I enjoy the occasional change of scenery, but I definitely am not complaining about traveling less and sleeping in my own bed.
I could comment on a lot of the other stuff that happened in 2020, but it seems unwise to use this blog to delve deeply into politics, racial tensions, a record hurricane season, the election season, and Brexit.  You will have to ponder those topics on your own.  For me and for us at DISTek, 2021 is looking to be another good year.  We are working on our third year of 100% employee ownership and adding more employee-owners to the mix every month.  Many of our internal processes and approaches have been changing, and 2021 seems like it will be a year when a lot of those are solidified into regular practice within DISTek.
I do not know if I will get to see you in person this year or not, but feel free to look me up if you ever want to talk about technology happenings in the off-highway equipment industry!