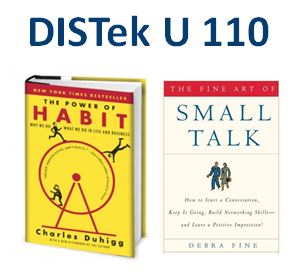 How to develop a habit and make it stick.  How to start a conversation and keep it going.  How to identify a lead and pass along the pertinent information.  Not content which is traditionally associated with technical trainings.  Rather, skills that can help anyone wanting to advance his or her career and the content taught in DISTek U 110: Engineering 1 Fundamentals Track.
Recognizing that the internet is full of trainings teaching engineers the technical skills that they need to do their daily work, in 2018 we took a different approach in creating our internal training program, DISTek U.  Our trainings leverage off-the shelf resources to help employees develop foundations upon which they can build their careers.  We focus upon the soft skills that allow employees to grow and develop their careers beyond their daily workflow.
As an engineering services company, DISTek recognizes that current and future success hinges on having both talented engineers and skilled leaders.  The DISTek U 110: Engineering 1 Fundamentals Track helps make entry level engineers more successful while fulfilling their engineering responsibilities.  This track gives engineers the tools and skillsets for success in their roles and positions them for future career opportunities at DISTek.
Specifically, DISTek U 110 (just like our other DISTek U classes) combines discussions based upon popular business books with panel discussions and leadership presentations to teach communication and business skills.  Through the books The Power of Habit: Why We Do What We Do in Life and Business by Charles Duhigg and The Fine Art of Small Talk: How To Start a Conversation, Keep It Going, Build Networking Skills – and Leave a Positive Impression! by Debra Fine, our engineers discover concepts and strategies anyone can use to modify habits or become better conversationalists.  The weekly book discussions provide great perspectives and invaluable knowledge.  Meanwhile, the presentations and panel discussions offer insights into DISTek's operations and philosophies.  Employees discover ideas such as; "everyone is in sales" because we represent DISTek with our actions and should be constantly looking for opportunities within DISTek and with our clients.
Matt Kunze, a recent DISTek U 110 graduate and DISTek test engineer, said, "When I heard 'E1 Fundamentals', I envisioned a course capturing the basics of embedded and/or test engineering. What I got was a great experience in professional development!  This class gave me a great opportunity to work on soft skills as well as personal motivation.  When reading and discussing The Power of Habit book, I learned the #1 factor which leads to successfully improving a habit is believing in your ability to do so.  I took it to heart, and I have been working on applying it to my own life.  It also helped me with our next book discussion covering The Fine Art of Small Talk.  As an introverted engineer, being a master of small talk/conversation is not something I previously thought I could do, but the more that I believe in myself, the more I improve.  I have truly been inspired by my time in this course, and I look forward to applying the lessons I learned!"
Jon Sunderland, another recent DISTek U 110 graduate and DISTek software engineer, added, "This class was powerful because it introduced two important concepts at the same time, a deeper understanding of DISTek as a company and a different way to view the world.  Learning about habits has helped me look at what people are doing and identify patterns that have developed. Learning about small talk has helped me identify potential relationship buildings strategies that can be employed even in the small bits of time between meetings.  Learning about DISTek helped me understand the company, the leadership, and the importance of my role as an employee owner.  Putting this altogether has already produced improvements in the way I interact with my clients, co-workers, and even family."
Overall, engineers who complete the DISTek U 110 track learn skills that will be helpful in any role – skills that will improve their professional and personal lives and grow their careers beyond daily workflow – without ever discussing an engineering concept or technical term.
If you're interested in a job opportunity at DISTek, please visit our Careers page or connect with DISTek HR via careers@distek.com.  As an employee owned company, DISTek is always looking for great talent and offers opportunities for engineers ready to grow their careers.