Before I get into this post, I should address a common point of confusion about what AEM and AEF are, so if you already know feel free to skip this paragraph.  AEM stands for the Association of Equipment Manufacturers.  They are headquartered just down the road in Milwaukee about 6 miles from DISTek's Brookfield office.  AEM is an organization of off-highway equipment manufacturers and their suppliers, working to advance the Ag, Construction, and similar equipment industries in North America.  AEF is the Agricultural Industry Electronics Foundation and it is also a member organization.  AEF has a global view, but a very niche technical focus of the electronics used on mobile Ag equipment.  Specifically, AEF focuses on cross-manufacturer compatibility of equipment electronics with its most notable efforts around ISOBUS – standardizing the communication between Ag tractors and the implements they pull.  AEM is actually a member of AEF and has a seat as secretary of the AEF chair group.  So, to summarize:  AEM is focused primarily on North America, but broadly on topics of interest to the off-highway industry overall; AEF has a global focus, but very narrowly on mobile machine electronics compatibility and just for Agricultural equipment.  Now, with that out of the way …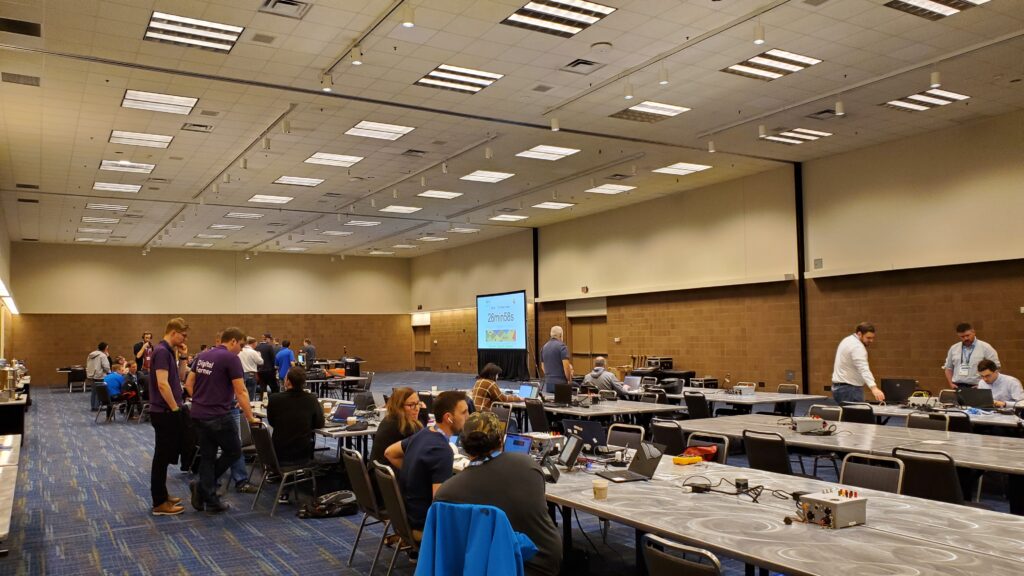 I had the opportunity to attend two major events in March that involved both AEF and AEM participation.  The first event in New Orleans was a joint AEF Plugfest at the same venue and overlapping with the Commodity Classic show, which is partially sponsored by AEM.  I have written several times before about AEF Plugfest, but thanks to COVID-19, we have not had an in-person event since the fall of 2019.  As is customary with Plugfests, there were multiple team meetings that took place on adjacent days, which were also offered in hybrid format for those who were unable to travel to the event.  New this year was the first ever early-stage demo of High-Speed ISOBUS, also known as HSI, which is an ethernet-based standard still in development which will improve on today's CAN-based bandwidth by a factor of 4000.  To top it off, AEF had a steering committee meeting jointly with members of the AEM Ag Technology Leadership group.  AEM also coordinated several tours of the Plugfest by various press, student groups, and interested farmers.  By far this was the most visible North American Plugfest in history.  I expect in future years our attendance will rebound to levels seen prior to COVID-19 to once again make this a can't-miss event for Ag electronics engineers.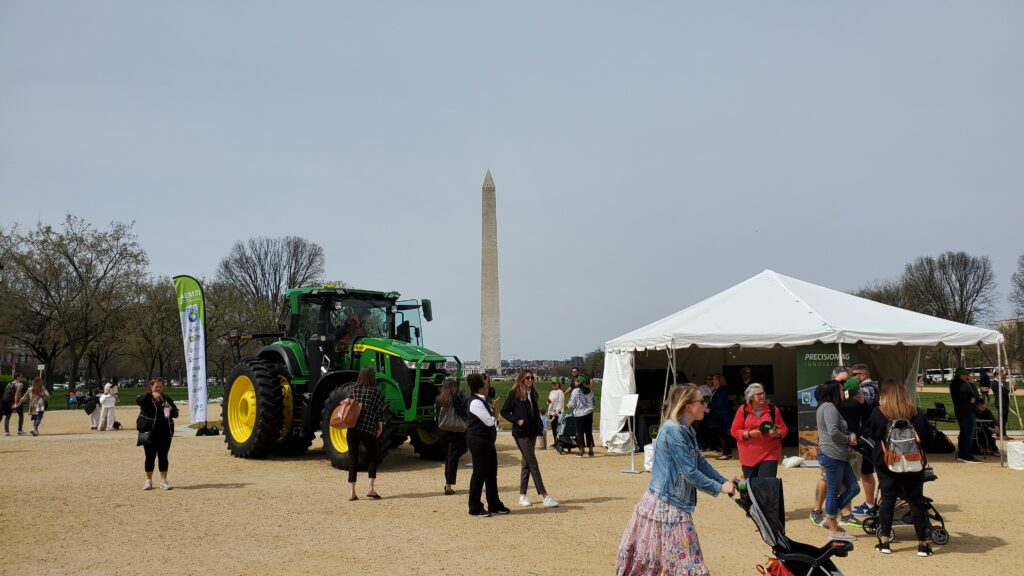 A little over a week later was another event sponsored by AEM: Ag on the Mall. Several Ag-related businesses set up booths and equipment on the National Mall in Washington DC for two days. The primary theme was sustainability and how Ag manufacturers and farmers have been working toward, and continue to work toward, sustainability in their operations and with their equipment and technology. Seeing large Ag equipment – row-crop tractors, combines, sprayers, planters – on the National Mall with the capital building in the background looking one direction and the Washington Monument in the other direction was a little surreal. I was part of an AEF booth in the digital pavilion with other technology companies and organizations. I spoke with some folks from USDA Research, as well as the Department of Energy. We also heard Secretary of Ag Tom Vilsack give a speech to the attendees. Overall, it seemed like a great opportunity to share what the Ag industry is doing with the Washington crowd, both those who work in government and those who were just there visiting to see some cherry blossoms.
I am not sure if or when another event like Ag on the Mall may happen, though a different AEM show next year, CONEXPO, puts construction equipment on center stage in Las Vegas. The next AEF Plugfest is already scheduled, and planning is in the works. I hope to get the opportunity to see more of my industry colleagues in person in Bologna, Italy, in mid-October for the next Plugfest. Or if you want to wait for the next one in North America in spring 2023, be on the lookout for an announcement of date and location in the next few months.