About Us:
DISTek is hiring! We are a 100% employee-owned company that is actively recruiting for multiple positions in our various locations across the Midwest, including Cedar Falls and Des Moines, Iowa; Fargo, North Dakota; and Milwaukee, Wisconsin. DISTek provides engineering services for our clients who manufacture off-highway vehicles, or equipment that attaches to off-highway vehicles. We specialize in test automation, embedded software development, and model software design projects.
Why Join Our Team?
DISTek is more than a company; it is a community and a culture built on mutual trust, respect, and care for all of our employees. We do this by integrating our company values into our everyday work lives.
Integrity Above All Else: DISTek as a company exhibits honesty, loyalty, and respect. This is shown by our team-focused attitude, our employee recognition efforts, and our recently implemented DEI committee.
Ownership Mindset: DISTek is a 100% employee-owned company. New employees become participants in the DISTek ESOP on their second day of employment.
Can-Do Attitude: We treat failure as an opportunity for individual growth, rather than a cause for blame. Our company growth is organically driven through individual efforts rather than solely from Leadership Teams.
Team Focused: DISTek values and encourages collaboration within and across our many engineering teams.
Serving With Excellence: DISTek's business model is based on delivering the best total solution that incorporates a high degree of client interaction. We place teams of engineers that partner with our clients to achieve their goals. By modeling our capabilities and deliverables, trust and confidence is achieved in each of our client relationships.
Stretching Beyond Ourselves: DISTek encourages employees to learn new skills by providing the opportunity to participate in both technical and professional skill development through our "DISTek U" internal training program, which offers self-guided and group courses. We also encourage engagement in our various committees and participation with FIRST.
Who works at DISTek?
Our engineers come from various backgrounds and work on a wide variety of projects, contributing to embedded controller and display applications in various stages of development. They support these applications from the initial gathering of requirements all the way through final system verification and validation (see image below). It is only through our diverse collection of engineering professionals from systems engineers, to MBSD and modeling experts, to embedded software developers, to automated test experts that we can fulfill these needs of our clients. We provide our employees a place where they can learn and grow in their skills, as well as help develop the next generation of off highway and autonomous vehicles.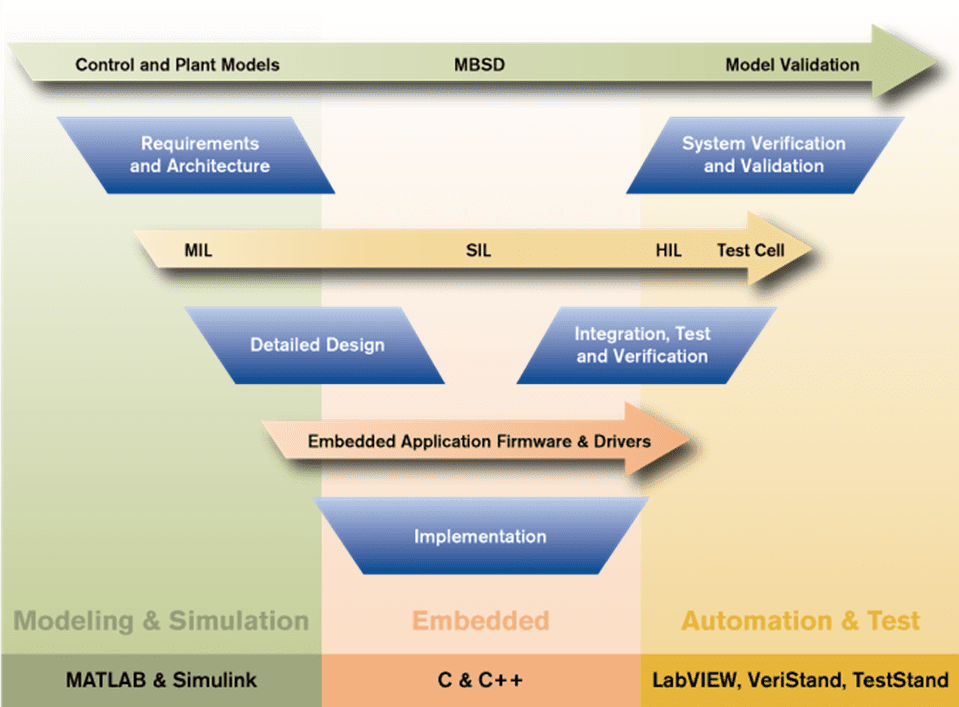 Here is a testimonial from one of our newer employee owners, Kamil, who works on our Northern Herd team out of Fargo, North Dakota:
"Insider" Career Advice:
Technical skills are helpful to have when seeking an engineering position. However, we believe what distinguishes the great engineers from the merely adequate is not ONLY specific technical skills, but the ability to learn and adapt quickly, a dedication to results, and professional integrity and humility. Being a "self-starter" is an essential part of success. Make sure to showcase your technical skills AND your soft skills. Both are important.
In today's job market the power is in the hands of the employee. When you participate in interviews, remember, you are also interviewing the company as much as you are being interviewed. Don't be afraid to ask questions. Here are some that may help you in your next interview:
"What programming languages and tools are primarily used for this role?"
"What does success look like for me in the next 60-90 days in this role?"
"In what ways does this team contribute to the company's mission statement and vision?"
"Can you provide examples on how team members display the company's values in their work?"
According to an article published from Gettysburg College, the average person will spend 90,000 hours at work (that's 1/3 of your life!). The company you choose is important. Look for companies who share your values and invests in employee development, community outreach, and individual growth. For example, DISTek invests in our employees through our Employee Stock Ownership Plan (ESOP). We invest in our communities by our involvement and financial support of FIRST Robotics. We encourage and participate in employee led volunteer opportunities, such as sorting food at the local food bank. And we are committed to our DISTek U education program to increase employee skill and professional development
Find a Career at DISTek:
Interested in learning more about DISTek? Check out our careers page for open roles, our Indeed page for the roles that we are actively hiring for, and our LinkedIn page to learn more about current employees and happenings at DISTek
Don't worry if you don't meet every single requirement for an open role. DISTek is dedicated to building a diverse, inclusive, and authentic workplace. If you are passionate about engineering and genuinely interested in DISTek, we encourage you to apply. You may be the right candidate for future openings!