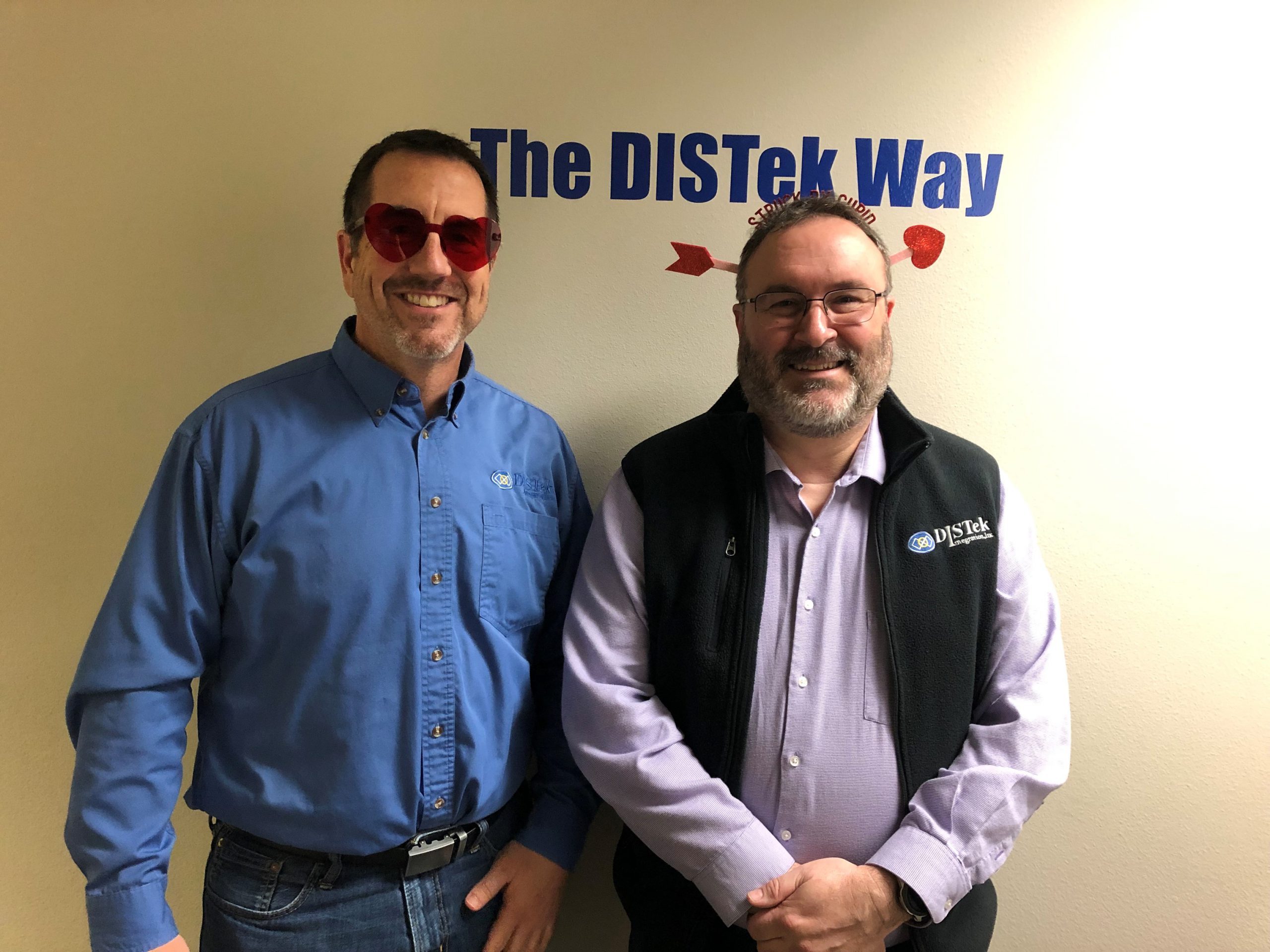 Love is in the air…. Alright, so yes, I'm a little late for the Valentine's Day cliches, but here at DISTek we pride ourselves on continuous improvement and growth, in order to keep up employee morale, maintain an employee-first culture, and retain the best and brightest in our industry. We truly value all employee voices and strive to maintain open communication and transparency at all levels throughout the organization, to continue to be a premier workplace where our ESOP continues to flourish and benefit our employee owners.
So, what are DISTekians saying they enjoy most about being a part of the DISTek team? Check it out below:
"It all boils down to DISTek cares about me. They have shown this through personal development opportunities, handwritten letters of affirmation, gifts, bonuses, and promotions. DISTek seeks out my feedback on different issues within the company in the form of surveys, quarterly goal participation, and coaching/mentorship meetings. Even through a pandemic, DISTek did not lay off a single employee, and in the aftermath of the pandemic DISTek has actually grown. So why do I love working at DISTek? Because DISTek cares about me, and they have walked the walk and not just talked the talk." – Jason, DISTekian since 2014

"DISTek created a suitable environment for my family when we were raising our kids. Far before WFH [Work From Home] was a normalcy, I was able to take my work home when the kids were sick, or quickly make arrangements when that sudden call came from the school nurse."
– Dan, DISTekian since 2005

"I am constantly impressed by the technical expertise demonstrated by DISTek engineers. And just as important, I appreciate hearing stories from those outside the organization about how friendly and easy to work with our employees are.

Working for an ESOP company helps us all to be aligned toward common objectives. When our projects are successful, the company is successful, and that leads to direct financial success for all employee-owners. Everyone is motivated to find ways to improve DISTek and continue our legacy as a company." – Benjamin, DISTekian since 2006

"I love working at an employee-owned company like DISTek because every single day I leave work, I am confident that my time and effort went towards the betterment of the company. That's something to love and be proud of."
– Charlie, DISTekian since 2021

"I enjoy working at DISTek for several reasons. I really enjoy my project work and interfacing with customers. There are many challenging projects where I have the opportunity to work with high performing teams. Furthermore, the management team is very approachable and welcomes feedback. They provide good direction and have a cohesive strategy for the future." – Paul M., DISTekian since 2010

"I love working at DISTek because the leadership team really cares about its fellow employee owners and continually put plans/policies in place to improve our work experience. Working for an ESOP company allows all employees to make an impact where they work."
– Carmen, DISTekian since 2018

"What makes working at DISTek so great is definitely the people. Our company is filled with friendly faces who genuinely care about their fellow employee owners from the CEO all the way down. I have a strong sense of comradery with those I work with, and I know my thoughts and ideas are valued. Being an ESOP company boosts that incentive too, since when any one of us does well in our role or helps someone else do well in theirs, we all benefit!"
– Nathan, DISTekian since 2017

"I've worked at a lot of companies over my career, ranging from 8-9 local employees all the way up to 75K+ global employees, and DISTek's culture has been a breath of fresh air compared to any of those companies. It just feels different here at DISTek in a positive way. I truly feel that the people come first and that everyone's opinion here is heard and valued. As an employee owner, I understand that I can have a very real impact on my, and my teams', impact, on the success of the company in areas such as customer satisfaction, which drives repeat and continued business, employee development, which leads to attracting and retaining the best people, and our financial future and security."
– Gene, DISTekian since 2021

"What I enjoy most about working at DISTek is the sense of belonging that I get every day at work. I get the opportunity to collaborate with sensible and talented coworkers, as well as perform challenging tasks and tackle problems, which I continue to learn from. These items contribute to my career growth and make my life at DISTek enjoyable and productive.

I greatly appreciate the open and honest culture that exists within the teams and among the leadership, as it directly contributes to a healthy and inspiring work environment."
– Athira, DISTekian since 2021

"I love that as an individual contributor, I have the ability to make a difference at the company level. Our organization is small enough that everyone has the opportunity to be heard and drive change." – Mitch, DISTekian since 2017

"Working at DISTek has been a wonderful experience. As an employee-owner, I feel like I have a say in how the company operates, and I have confidence that leadership will take my thoughts into consideration. It's very rewarding that my contributions to the company can be directly beneficial to me." – Paul T., DISTekian since 2015

"For me personally, I love the warmth and inclusive nature of the entire organization. From day one, I have felt accepted by all people I've encountered. Some companies claim to live by their culture but fail to demonstrate it, others say nothing but exhibit their clutching embrace of the values in their everyday actions. From my perspective, the silent but noticeable embrace is what I witness here at DISTek with everyone I meet." – Mark, DISTekian since 2021

"I appreciate working with professionals who challenge me and encourage me. Key attributes include autonomy, ability to try new ideas, fast-paced environment, and work/life balance." – Nick, DISTekian since 2005

"I enjoy working for DISTek because I feel like I belong and am a part of something bigger than myself. Everything I do day to day feels like it has a purpose to the whole company."
– Scott, DISTekian since 2017
I promise I did not pay any of the individuals above to write glowing reviews about DISTek. All the feedback is genuine, and I take great pride in that. The culture, the people, and the shared sense of success where we are all in this together are amongst my top list of favorites here at DISTek and, when I really think about it, it makes my heart swell a little like the Grinch when he brings the presents back to Whoville on Christmas Day. I am proud of who we are and what we have accomplished thus far and, maybe even more so, I'm excited to see where this journey takes us.
If you are interested in joining our team, we'd love to talk and learn more about you! Please visit our Careers page for current openings or reach out directly to hr@distek.com.